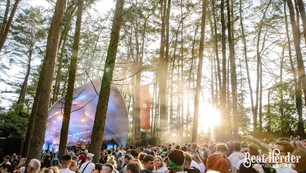 UK Festival Award Winning Beat-Herder, described by organisers as the weirdest, wildest and most joyous party in the UK festival calendar announces its first line-up names for 2022, running from 14th – 17th July.
After a two-year break due to the COVID-19 pandemic, and with heart-breaking back to back postponements, Beat-Herder is back and bursting with excitement to deliver just what the world needs and what its faithful following deserves: a technicolour escapist party set in the lush Ribble Valley in Lancashire.
Returning to celebrate Beat-Herder's belated 15th birthday, thousands of eager, devoted revellers have rolled over their tickets, which makes this year extra-special in reuniting the biggest festival family in a much-anticipated comeback, for which only final tier tickets remain.
Described as 'the best party of the Summer' (The Mirror), Beat-Herder's reputation precedes it as a haven of hedonistic joy. The legendary event boasts 20+ whimsical stages, world-class DJs, live acts & comedians, and surprises aplenty. This year is the first time that the festival will run across four days, opening the site on Thursday 14th July for an intimate gathering to those lucky enough to grab the very limited tickets for an extra day of unbridled revelry.
Beat-Herder continues to exist as it did back when it started as a free DIY party in 1998: uncompromising, unwavering and distinguished by an overwhelming sense of community. Its reputation as one of the friendliest festivals around can be attributed to its loyal followers – friends, and families who create new memories to cherish in a bold and barmy atmosphere each summer.
Celebrating electronic music in its many forms, Beat-Herder is thrilled to make its first line-up announcement for 2022. Headlining the main stage this year and promising an electric live show is one of music's greatest living legends Nile Rogers & CHIC.
Also appearing this year are reggae icons The Wailers, whose music was, and is, culture-defining: rebel hearts with brave souls embodying the spirit of 70s era-defining reggae. They are joined by dancefloor party-starters Hot Chip, known for their electric live performances and cited by The Guardian as the 'greatest British pop group of their generation'. They'll be armed with their collection of earworm hits including 'Over and Over' and 'Ready for the Floor'.
Sensational, innovative electronic act Public Service Broadcasting also join the main stage party. One of the UK's most treasured DJs, Craig Charles will bring his captivating live Funk & Soul show to Beat-Herder this Summer; alongside the original reggae selector and soundclash champion David Rodigan. Singer and lead guitarist in rock band Gomez, Ben Ottewell appears too, along with The hugely popular Dub Pistols, who have been tearing up festival stages for 20 plus years and other-worldly ravers Henge, winners of the accolade of 'Best Live Act' at the Independent Festival Awards. Unconventional punk rockers Warmduscher will bring their irrepressible, raucous energy to the main stage; alongside Ibibio Sound Machine and Post-punk, multi-instrumentalist, singer and producer LoneLady.
Music is just part of the experience at Beat-Herder. Entirely handmade from scratch, the stages stand out as something truly bespoke in the increasingly cookie-cutter festival landscape. That attention to detail creates an immersive world full of beguiling and intriguing creative concepts, winning 'Unique Festival Arena' at the 2019 AIF Festival Awards, and the 'Extra Festival Award' at the UK Festival Awards, for 'attention to detail & creating unforgettable festival experiences'. Where else would challenge you to find the hidden, heated swimming pool (which won the 'Unique Festival Feature' award at the 2019 Skiddle Awards), or invite you to dance to drum and bass in a chapel?