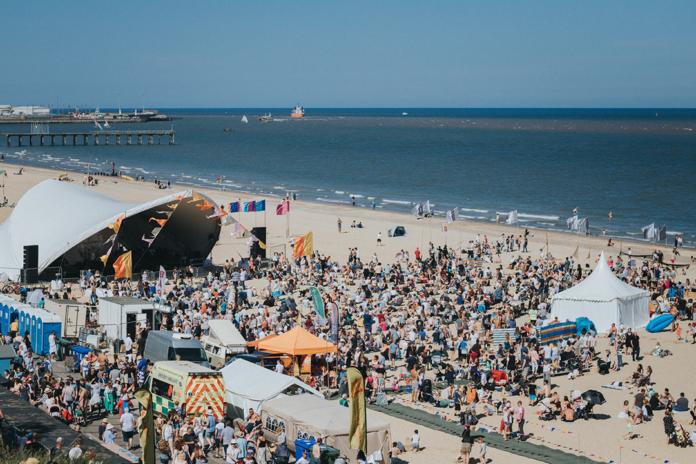 Lowestoft's South Beach, the UK's most easterly location is the venue for the return of First Light Festival, claimed by organisers to be Britain's only beach festival offering a multi-arts line-up over 24 hours beginning at noon on Saturday 18th June.
With a musical offering spanning multiple genres, The Sunlight Stage will host sets from bands, classical musicians and DJs. International drum and bass DJ, LTJ Bukem, headlines on Saturday evening. Other acts include DJ Les Spaine – the Godfather of UK Funk and former head of Motown UK, British jazz legend Andy Sheppard, Manchester's jazz-funk collective Secret Night Gang, and Juanita Euka – upcoming Congolese vocalist and the London Afrobeat Collective's frontwoman.
To welcome dawn, there will be a premiere performance of new music by revered composer Christopher Gunning entitled Dawn Light. And contemporary musician Nic Pendlebury performs Terry Riley's Minimalist masterpiece, Dorian Reeds.
Choral singing will also greet sunrise, and the winner of a new music contest, in partnership with BBC Introducing, Wild Paths and Catch 21 Records, will perform on the stage later that morning.
More stages host acoustic performances, late-night clubbing, poetry, spoken word, cabaret, comedy, beach cinema, food, art installations, craft and susainability.
The newly revamped East Point Pavilion will host emerging performers. The re-opening of the venue marks a milestone in the regeneration of Lowestoft's South Beach by Hemingway Design. The Victoriana-style glass pavilion will eventually house independent street food traders, alongside barista coffee, craft beer, wine and cocktails and a year-round schedule of entertainment.
Wayne Hemingway, co-founder of Hemingway Design, which also heads up the festival, said:
"I'm thrilled to see the return of First Light Festival this year, which is helping to drive the cultural regeneration of Lowestoft's South Beach, and re-establishing it as a destination, bringing focus to it being the country's most easterly point. As a free festival within reach of hundreds of thousands of people it really adds some lightness in these uncertain times where international travel isn't attractive to many and climbing living costs are impacting on people's disposable incomes.
Coinciding with this year's festival is the re-imagining of the promenade's most prominent structure, East Point Pavilion. We are really excited about the benefits the Pavilion and the festival will bring to Lowestoft's 70,000 people, small businesses, and the cultural and visitor economy – this summer and beyond."