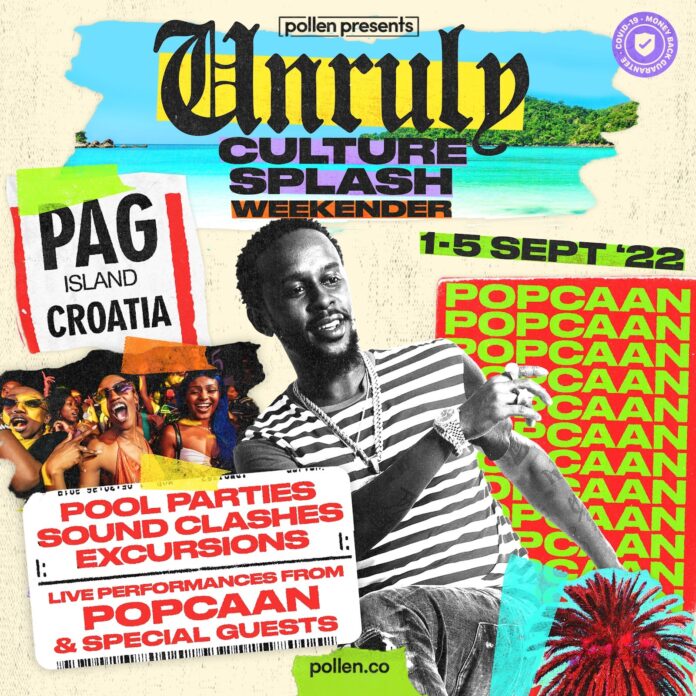 Curated by the Unruly Boss, Popcaan, Pollen presents Unruly Culture Splash Weekender, a four day/four night island takeover of Pag Island, Croatia. Fusing the best in Jamaican, African and UK music & culture, plus unforgettable in-destination highlights to create a unique travel experience. Bringing together sound-system culture from across the globe and its community and highlighting the creativity, wellness, music, food, dance and vibes with lots of surprises in-store, Unruly Culture Splash Weekender promises to be an unforgettable getaway.
A stellar itinerary awaits across the 4 days, taking place on the beautiful island of Pag in Croatia. Zrće beach is one of the best party beaches in the world with clubs lining the shoreline on the Adriatic Sea.
HUGE artists are set to bring together sounds-system culture from across the globe, with one of the first names being revealed as global award-winning, sound-clash king, Rum and Red Bull connoisseur Beenie Man.
Revellers can expect parties running all day and night, with takeovers such as The Originals All Day Pool Party, BBQ and Beats on the beach hosted by the ULTIMATE party in the UK, Matt's BBQ. Organisers promise plenty of surprise guests along the way too.
Plenty of add ons are available such as a sunset boat party, an adventure ATV Quad tour or a Twist N Turn Dance Class.