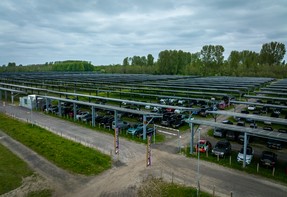 Solar Carport Biddinghuizen was festively opened in the presence of influential decision-makers within the sustainability sector. The 35-hectare Solar Carport was realized by Solarfields and MOJO Concerts at the Lowlands Festival car park and is the largest solar carport in the world.

Solarfields is a producer of sustainable energy and realizes solar energy systems and is the market leader in large-scale ground-based solar parks, intending to make the Netherlands more sustainable and supply clean energy to 1 million households by 2030. MOJO has been working for years to make the festival more sustainable, with energy consumptionof around 300,000kWH consumed at each edition with generators currently generate almost all electricity. With the construction of the Solar Carport, the festival is taking an enormous step towards sustainability.
The surface of the Biddinghuizen project covers 35 hectares and offers space for 15,000 cars. With the help of 90,000 solar panels, the system provides a capacity of 35 MWp, which can supply approximately 10,000 households with green energy. This output is equivalent to the power consumption of about 100 Lowlands Festival weekends annually.
The bifacial solar panels for this large-scale solar carport allow light to pass through. This means that the light reflected by the ground can also be used to generate energy. In addition to a higher energy yield, this gives the opportunity to allow the grass under the solar panels to grow better. Because the carport is only used as a parking space a few times a year, sheep graze there during the rest of the year.

Ruben Brouwer (MOJO Concerts director): We are proud of the realization of Solar Carport. For our company it is essential that we are committed to a sustainable society and this initiative ensures that more sustainable, green energy is generated. This is an important step within our energy transition towards using renewable energy solely.
Niek Tamminga (Director Rooftop): 'The realization of a colossal project like this is never without challenges. We are incredibly grateful for the support from governments, enabling us to realize this textbook example of multiple land use in cooperation with MOJO. We hope that it will inspire others to combine parking with sustainable energy generation in more places in The Netherlands.'
Eric van Eerdenburg (Lowlands Festival Director): 'We are proud that this solar carport has been opened in collaboration with Solarfields after years of development. As a festival organization, we want to cultivate an optimistic vision of the future and play a role in solving climate problems. In this way, we hope to be a source of inspiration for our visitors to contribute – no matter how small – to making the world more sustainable.'
Watch a mini documentary about the project here: https://www.youtube.com/watch?v=O_HiwfWnYcw