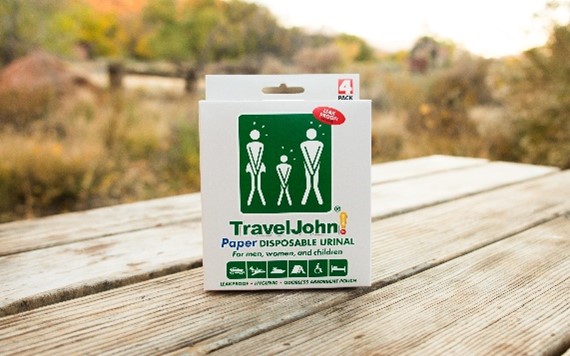 As some festivals return for the first time in two years, it's important to consider how you can support your favourite festival and the environment, while still enjoying your weekend.
Simon Ashton, managing director, Simon Safety, discusses the issues with festival toilets, the environmental problems this can cause, and uncovers how festival-goers can solve their toilet troubles this summer with ease.
The state of play
As festival season gets underway, it's time to talk about everyone's least favourite part – the toilets.
Last year, attendees of Victorious festival in Portsmouth reported waiting for up to an hour to use the toilets, with minimal handwashing facilities and unacceptable conditions once they got to the front of the queues.
This might have been a surprise for visitors of last year's festivals, as they took place in the midst of the COVID-19 pandemic, but this was a symptom of various supply shortages. Festival attendees faced fewer toilets, with Melvin Benn, Festival Republic, stating: "everything is in short supply, it's the same for portable toilets" before the return of Download festival in June last year.
Due to the disposable nature of a festival toilet – it needs to be replaced once they've been used to a certain extent or damaged – they're often subject to shortages if there's problems in supply chains.  
Supply and demand
Usually festivals allow one toilet per 75 women and one per 400 men – not including urinals. However, if you've ever been to a festival, you'll know that toilets can easily become out of action due to no toilet paper or hygiene problems, meaning the number of people per toilet can be even higher.
It's also no surprise that the number of people per toilet can increase massively as people gather in one part of the festival to see a headline artist, or try to use toilet at the same time, before or after their favourite artist starts.
Additionally, the number of toilets per person doesn't account for the number of people drinking alcohol, a dehydrating diuretic, which in hot weather will lead people to drink more liquid and increase the number of times they'll need to urinate during the day.
With 80% of visitors saying they'd pay for luxury toilets, and 19% of visitors stating that facilities would affect their loyalty to a particular festival, some festival organisers can see the provision of luxury toilets as a solution – and as an opportunity to make some extra cash. However, this simply shows that there's an issue with existing festival toilets, and that something needs to change.
Environmental effects
With the state of toilets, impatience and the influence of alcohol, often those attending festivals will avoid the toilets altogether, instead resorting to urinating in nature. Attendees avoiding the toilet may feel as though they're becoming 'at one' with nature, supporting the 'leave no trace' tagline multiple festivals have adopted to encourage environmentalism and minimise waste.
However, the sheer number of people who choose not to urinate in the toilets provided – Glastonbury is estimated to have 210,000 visitors this year – can have extreme effects on an ecosystem already at risk from the effects of footfall and waste.
The urine from festival attendees is at risk of toxically polluting the water table below the ground. Glastonbury organisers have been running a campaign to combat this for a number of years, asking festival visitors: "please don't pee on the land," stating: "the ground water runs into the central Whitelake River and down the valley for miles around."
Not only can the water table be affected by the amount of urine, but the wildlife nearby can also be damaged. Scientists have reported that there were damaging levels of drugs in the river that runs through the Glastonbury festival site, which they attribute to public urination.
Due to the inadequacy of toilets on the festival site in 2019, scientists found drug levels in the Whitelake River to be up to 104 times higher downstream from the festival site when compared to the river upstream. Scientists have even stated that the effects of public urination at Glastonbury is enough to affect the life cycle of rare aquatic wildlife living downstream.
We can see the toilet situation in Glastonbury is already affecting local wildlife. Therefore, although The Environmental Agency weren't concerned by pollution levels in 2019, the return of the festival combined with potential supply chain issues for toilets may raise concerns about the potential cancellation of the festival.
Glastonbury is by no means an anomaly, and the effect of repeated public urination is likely to have a negative impact on water tables and environmental habitats across the country should toilets be left as they are.
Relieving the problem
On its return, Glastonbury will be providing 2,000 long drop seats and 1,300 compostable toilets for their 210,000 guests. Although this might seem like a quick fix, this is still only one toilet per 63 guests, a number which can easily increase due to crowds gathering in one area or toilets going out of use.
Some festival-goers might also try to 'hold it in' until they find a free toilet, or until their favourite artist has finished and if they're avoiding urinating in public. However, this can also cause negative health effects.
Holding it in can affect your external sphincter muscles, and overstretching these for long periods of time can result in you losing overall control. In the short term, there's the potential for urinary tract infections, which are made more likely due to the lack of hygiene over the festival weekend. Over time, urinary tract infections can also become more serious, leading to kidney infections that could end up in your bloodstream.
To solve these problems, some suggest using She Wees – however, these still encourage public urination – or portable toilets – which describe themselves as portable but can't really be carried around a festival.
However, these issues can be solved with TravelJohn, the entirely portable and odourless urinal, which has been described as the favourite of the potential festival toilet options currently your pocket, TravelJohn is the convenient and sanitary toilet solution for this year's festivals. The polymer substance immobilises bacteria growth immediately, absorbing liquid waste and turning it into a spill-proof gel which can be disposed of in general waste. If you're looking to save the environment, try TravelJohn's paper version.
To find out more about the most convenient way to avoid festival toilets and support the local environment, explore TravelJohn or call 01646 600 750.
available.