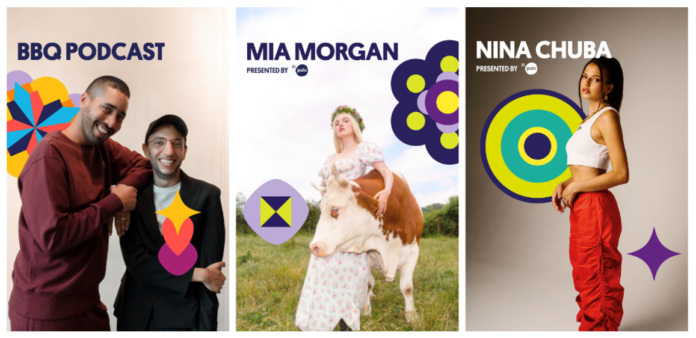 After announcing all the main stage artists, SUPERBLOOM is adding numerous newcomers to its line-up for the NeoNeo Stage. On 3 and 4 September, the SUPERBLOOM Festival will celebrate its premiere at the historic Olympic Park in Munich and in In addition to numerous superstars such as David Guetta, Megan Thee Stallion, AnnenMayKantereit and Rita Ora, upcoming artists will also have their own stage where they have the chance to present themselves in front of a large audience. This will be presented by media partner PULS – the young content network of Bayerischer Rundfunk, which already has numerous formats for young musicians, creators and authors in its program. This will be the place to be to discover real insider tips and the stars of tomorrow.

"It was important to us to give young talents and "new faces" a stage and to integrate them into our festival concept. With PULS, we have an authentic partner at our side with whom we share the same values and visions – together we have curated the NeoNeo Stage," Managing Director and Festival Director Fruzsina Szép, explaining the concept and the idea behind the NeoNeo Stage.
New acts to discover will include the Bavarian indie band Die Saune, who will be doing away with all the clichés of the Upper Bavarian Alps with their concise German-language hooks, the Hungarian singer ДEVA will be immersing the audience in completely new spheres with a combination of her delicate fairy vocals and driving electro beats. The female power of Nina Chuba, who has already been named newcomer star of the year by various music magazines for her mix of pop and rap, the Berlin-based Esther Graf, who is known not only for her expressive voice and catchy lyrics, but also for her casual style, and the Munich-based electro-pop duo Umme Block, who experiment with analogue synthesizers, beat machines, vocals and guitars to create their own unmistakable sound. The German indie-pop duo Bruckner will certainly create a mosh pit or two when they perform their hit Lifestyle. Newcomer Cosma Joy, pop singer MELE and German rapper Nikan are also among the confirmed artists for the NeoNeo Stage presented by PULS. In addition to the musical acts, the podcasters BBQ Podcast, who will have space on the NeoNeo Stage for important content such as BIPOC and queer topics, and the makers of the Football Podcast will also perform.

Other new additions include UK artist Tom Grennan and Ukrainian rap artist Alyona Alyona, plus an intimate singer/songwriter performance area with local acts called the Hideaway.