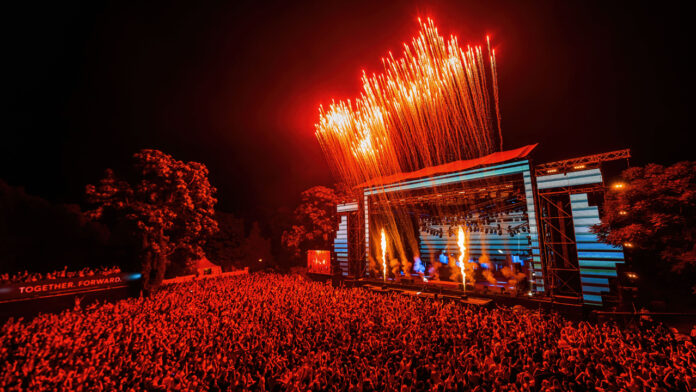 EXIT Festival, the two-time winner of Best Major European Festival, will be the first major music event in the world to use blockchain technology to sell NFT tickets for a festival of this size. NFT VIP Gold and NFT VIP Infinite Experience tickets will go on sale June 30th 2022 at midnight CEST via NFT-TiX. Along with tickets, last week EXIT has dropped NFT collections done in collaboration with superstars Maceo Plex and Christina Carmela. With this EXIT has positioned itself as one of the pioneers in the fast expanding music festival metaverse, always following its motto that digital technology is here to amplify the real-life experience while blending the best of both worlds.
NFT-TiX a is a ticketing platform and marketplace built on Ethereum blockchain. It is run and governed by smart contracts, empowering ticket sellers to connect with ticket buyers one-on-one. This is a piece of revolutionary technology that helps the ticketing industry step away from middlemen once and for all. NFT-TiX prioritizes fair prices, profit for sellers on the secondary market, and exclusive perks for ticket holders from event organizers. In addition, NFT-TiX offers additional perks via decentralized unlockable content to their NFT Ticket holders.
NFT VIP Gold and NFT VIP Infinite Experience tickets offer customers unparalleled convenience and premium VIP festive treatment at Petrovaradin Fortress in Novi Sad, Serbia, from July 7th to 10th this year. EXIT's VIP Infinite Experience Ticket will offer a once-in-a-lifetime live experience, with access to EXIT Music Festival's exclusive, secret and VIP areas, access to the legendary mts Dance Arena stage, meet and greet with global music stars, private parties, and merchandise boxes, exclusive video and audio unlockable content and airdrops!
Earlier this week, EXIT Festival went further into Metaverse, releasing two NFT collections in collaboration with global music stars and celebrities. The SHADES collection was created by one of the biggest stars in electronic music, MACEO PLEX, while the WINGS collection was created in collaboration with model, pilot and human rights activist CHRISTINA CARMELA.