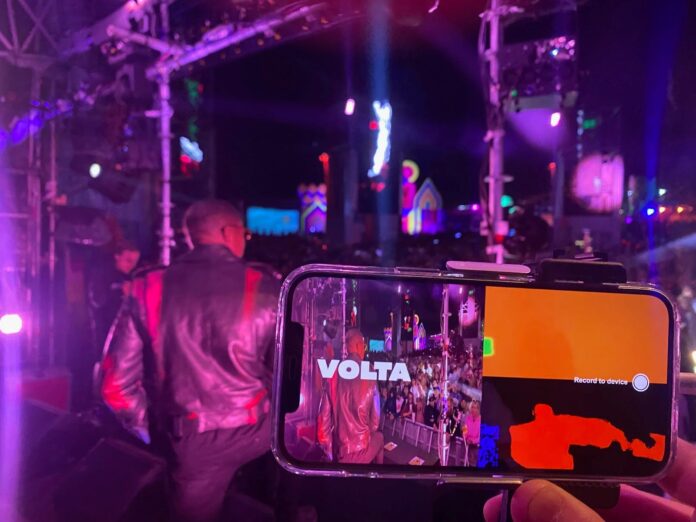 Off the back of a well-received Glastonbury debut (with Bonobo, Jamie Jones, TSHA and more), immersive mixed-reality technology, Volta can now reveal they've secured a £400k ($500k) grant from Government-backed Innovate UK. 
Volta, a technology included as One of TIME Magazine's Best Inventions of 2021, is a self-serve XR creation platform that gives musicians, artists & creators the ability to design and broadcast 3D, experiential content. 
The grant will go towards researching and building audience interaction features that can bring global and local audiences together during live events. The aim is to enable both online and physical audiences to have an impact on the actual experience of a live event in real time, as well as creating a new revenue stream for artists that can deliver a meaningful income and helping artists engage with their fans far beyond emoji overlays and donations. Audience interaction not only brings fans together, but engagement drives brand awareness and with audience participation being a key feature, Volta gives fans a reason to watch and interact with the stream, rather than just listen to it.
The grant will also help Volta create the ability for audiences to interact in a way that benefits artists of all levels, incorporating gaming mechanics with in-app purchases and remote user interaction into live events with the aim of creating extra value in the music industry for the long tail of artists who historically haven't been able to make a meaningful income from their art. 
There will also be an element of research undertaken: Volta plans on hiring behavioural scientists to discover the motivation of concert goers live and live streamed and the psychological implications of making experiences interactive. 
Volta CEO, Alex Kane adds: "This money not only gives us Government funding but the opportunity to methodically learn how to translate the best parts of live events into hybridised ones"