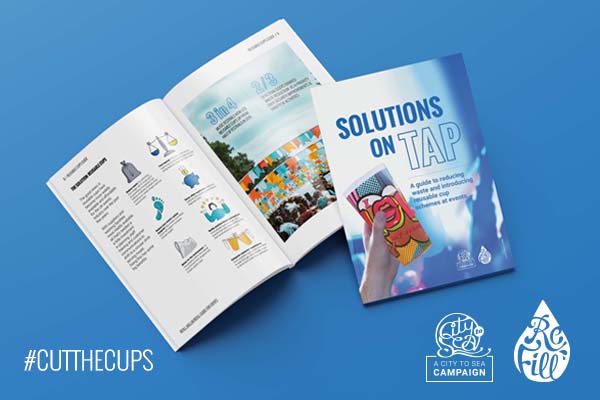 There is "no excuse for single-use" cups to still be used at events according to the environmental not-for-profit City to Sea who are today launching their guide "Solutions on tap a guide to reducing waste & introducing reusable cup schemes at events".  
The new guide for small and medium-sized events offers a practical and inspiring guide for organisers on how to avoid single-use plastics. Currently, over 100 million single-use plastic cups are used every year at UK festivals and live events, and most of these are incinerated or sent to landfill. The industry's 100 million plastic cups are responsible for 100,000 tonnes of C02e emissions and 30,000 tonnes waste that could be avoided2. City to Sea believe that another way is possible and by building on industry best practice they can make reuse and refilling the new norm at events across the UK this summer.  
The new guide offers practical guidance around how to introduce measures like deposit return schemes for reusable cups as well as busting myths around bioplastics as well as outlining some best practice already occurring within the industry. 
The best practice includes Manchester Food and Drink Festival that swapped out single-use for reusable cups in 2019. The festival reported a 40% saving in waste management costs due to less bin emptying and litter picking. It also explores community grassroots responses as well highlighting examples such as Litterfree Dorset, a community group, who purchased 500 cups for local events to borrow.  
 
Helen Harland, Sustainability Project Manager at Manchester City Council, commented saying: 
"We know that community event organisers have a lot to do, often balancing organisation of an event with other priorities, so any support in making the necessary switch from single-use to reusables is really welcome. Through delivery of our own events and working with other organisers, we've heard a lot of questions when considering reusables, so guides like this really help to give organisers the confidence and knowledge to take action. Every event of any size that saves single-use cups going into the waste stream is a huge step forward." 
On a larger scale the report highlights Shambala, a UK festival, that runs two campaigns to encourage reusables. There's no water for sale at Shambala and customers are asked to bring an empty bottle or buy one on site and fill it up at water points. In 2019, Shambala traders charged 25p for a single-use coffee cups and give a discount for reusable cups. Today, all single-use cups are banned.  
Becka Whiteley, Director of Shambala, commented on the report launch saying: 
"We banned disposable bar cups back in 2010 as part of our commitment to be single-use plastic-free. With plenty of other, reusable solutions available, there's just no good reason to still be using single use cups at your bars. With 15,000 people at Shambala, even if everyone only had a couple of drinks from the bar a day, that's a huge amount of totally avoidable waste going to landfill. Our audience quickly got used to the system and see it as a real positive – in our experience, they are proud to play a part in reducing the impact of the festival." 
The guide also slams 'false solutions' like "bioplastic" cups. The guide says that these are unable to be recycled and are rarely collected back in for commercial composting and that reuse is by far a better option.  
There has been significant advances in recent years from larger festivals. Research for The Show Must Go on Report in 2020 found that 3 in 4 music festivals now use reusable cups – up from half of festivals in 2015. However, there are a number of barriers that stop small and medium sized events from following suit.  
Matt Mellen, City to Sea's Refill Campaign Manager, commented saying: 
"Like so many Brits I will be going with family to small events, beer festivals, church fetes as well as one or two larger commercial festivals. The last thing any of us want to see is single-use plastic littering the floor. While larger festivals have improved in recent years smaller festivals still need a bit of support. With this guide in place there is really no excuse for single-use cups at events this summer. It's an easy step by step guide to how to have fun and have a drink without it costing the earth.  
He continued, "Councils have a particularly important role to play here. A first step that councils can take is to stop using single-use plastics at their own events. Councils can also encourage reusable cups at events in their areas in a number of different ways using both the carrot and the stick."