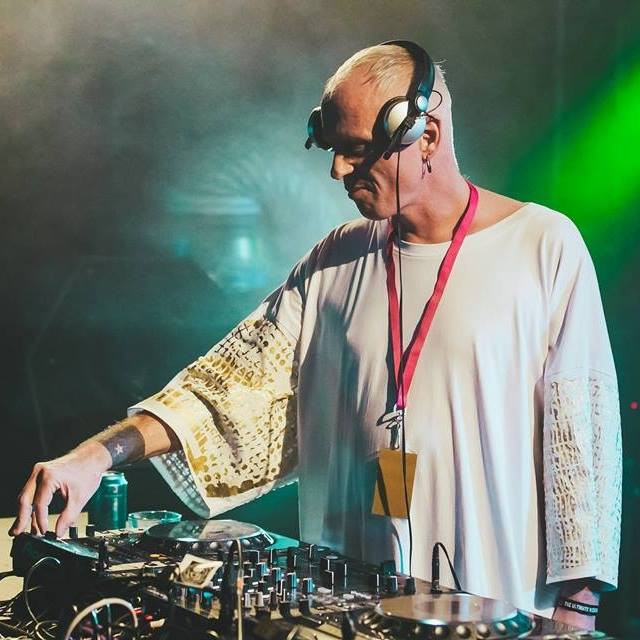 You may know Richard West, most likely as Mr C, front man of The Shamen, or as a nightclub owner (The End) , studio owner, DJ, label boss… a true pioneer and still a purveyor of fine underground dance music, it was perhaps only a matter of time before he created a festival to celebrate the genre, and that's the very reason we caught up on his first day back at home in LA after a frantic few weeks in London dealing with the challenges of the 2nd edition of Summer Love.
First, we need to know how it came into being:
"We've done tents at festivals, but obviously not organised the festival, we did homelands a couple of times. And you know, I've been involved with my Superfreq label with lots of festivals like BPM and stuff like that, but they're all different types of festivals, you know, because festival is a very loose term isn't it, these days? But I'm a rave promoter as such; doing festivals is a whole new, different thing. It's like, put your big boy pants on."
We wonder how the opportunity presented itself:
"Last year my partner, Steve White, came to me and said 'we've got this project I've been offered. Do you want to do it?' Basically, someone hired this piece of land, they wanted to do four one day events on it and asked if we'd be one of the days. We were going to work out a deal where they'd put in all the infrastructure, take the bar and food, I would put the DJs in, do the marketing and take the ticket money. That was how it started but I ended up doing the whole thing on my own, with my team. But yeah, every [other] day everyone pulled out, the other three events fell apart. Then the people that were [providing the site] didn't want to do it. I did it myself."
There must have been some momentum to make that decision, three weeks before the event:
"It was like, well, do I just lose all this money that I've invested to do something that I really think is needed as a festival, because it's unique, do I just lose it, or do I make it happen? And then it's an investment and we can move on, do the next year, and start to build something with this community that had sprung up out of out of the end of a pandemic, a community of lovers that I haven't felt in a long time."
And as far as the content goes?
"I know what I want; I've been in the game a long time, and it's not my first rodeo. I've been discussing doing a festival with Daniel Mancini, who's the production director. We were discussing this years ago, what would be the perfect boutique festival. The plan has already been in mind as such, so when it came to implementing it, it was really quite simple to do."
"And the good thing is, the UK has so much talent when it comes to DJs and artists, so we could do something that is properly British, which gives us a lesser expense, better entertainment, better music."
"With the first Summer Love we felt that, with the pandemic, there has to now come a summer of love. We obviously had the one in the sixties and then 1988 and now it's ripe, I think the Roaring Twenties is upon us; it's going to be completely mental moving forward. We wanted to create something that could encapsulate that love and that togetherness that we missed through this pandemic."
"We got the original first wave of ravers that came to the festival as well as this new generation. So, we've got a festival where we've got proper old school, but the original, original underground old school. When we got into house, acid and techno in the eighties, it was because it was new, fresh and exciting, it was all about this new sound. So, we try to play the music that really is about that sound in the Summer Love stage about something that is more innovative than the big cheesy classics."
"We've now got this crowd coming with that love and that attitude from the 1988 and 89 Summer of Love Era, and we've got all these new people coming through that have got great talent; it's all new music. We've managed to pull something together that's got something special. There's no cheese anywhere, it's all proper, proper music and all for the right reasons. And I think that's what's making this special. That's why magic is happening."
So, are we talking about an audience of old ravers listening to new music?
"To be fair, it's a community that had been created over 35 years of hard work and effort from putting on raves and doing Clink Street or Dungeons in Lee Bridge Road in 89 and the end and all the other stuff we've done and it's this community didn't just spring up out of nowhere."
"But if you look at the new crowds that are coming through every year, I'm doing my Superfreq events in London and around the world, we've got new generations of people coming through all the time. So it's not like we've got the old and the young, it's not really like that it's much, much more broad right across [the age spectrum]. We had a median age of our tickets of just 35."
It's abundantly clear that this is an audience waiting for a festival, a festival that just needed a site which, after year one, would no longer be available. The site chosen for year two posed its own problems. It's no surprise to hear 'baptism of fire' and 'big learning curve' in West's reflection on year 1. But the initial site chosen for 2022, just south of Gatwick Airport, offered a sharp lesson in getting licence applications in good and early:
"Yeah, we're partly culpable, but it didn't look like we were going to get the licence anyway. We put it in very late, so then everything opens up, that's when the objections start coming in. We're not worried about objections, every festival gets people objecting, but then there was a problem with a cycle rally going by the site"
Cyclists, scientific interest, ingress, and egress…a long list of objections from all of the usual quarters led to a decision to move site with a few weeks before doors, to Billing Aquadrome in Northampton, a site that may or may not have been earmarked for future years, as West explains:
"A good friend of mine, Keith Roasty, he's doing a car show at the site the week before our festival, I'm actually DJ for a disco set. He took me up there to go and have a look at the site with him back in [the spring]. I had a chat and met the people there, got on really well and talked about maybe doing something next year in '23 together"
Fortunately, the site was available for the same weekend so, with ticket buyers notified and refunds in place for those that wanted them, the switch was made to a site that offered advantages for organisers and customers alike, with glamping pods and nearby hotels available (and subsequently fully booked), the one-day event has turned into three, all for the same ticket price.
It's a sign of West's respect for his audience that he took to their social channels to explain the move and to offer his apologies to those that couldn't make it to the new venue at short notice:
"Obviously there's a lot of disappointed people that will now no longer be able to come, and we're really sorry that that's happened, they feel we shouldn't be moving at all. But at least people that people that can go can still go. It's still a one-day festival as well as a three-day festival for those who want to just go for a day out as originally planned. So, if people want that one day festival day out, they've got that. The line-up is as originally built across five stages, all on the Saturday, only now that we have this fantastic new venue with glamping and camping and lodges, which sold out [instantly]."
"It's still a one-day festival for those who want to just go for a day out as originally planned, as well as a three-day festival, so if people want that one day festival day out, they've got that. The line-up is as originally built across five stages, all on the Saturday, only now that we have this fantastic new venue with all this glamping and camping and lodges, all of a sudden we can now offer a Friday evening welcome party, we can do all day Sunday and all at no extra ticket cost. The Summer Love Festival, All Stars, which is most of the DJs on the bill, can't wait to get involved on the extra days, so that's all in addition."
We venture to suggest that Summer Love may have found its home:
"Yeah, I think so. The people there are really nice and have bent over backwards for us, they're already licensed for events, the setup there is amazing, you know, no portaloos for our lot, it's porcelain old chap."
The new site also offers room for expansion, from what is expected to be a manageable and modest 1000 cap boutique festival this year, we wonder where it stops…10,000?
"I don't know if I want to go that big with it, that's not boutique,  you start to change the infrastructure and the manner of it. And then the people that come might not be people that have the same musical integrity and values as the original crowd. I'd rather build it much more slowly and build it on love, it's called Summer Love for a reason. I want people to come and contribute and feel like they're a part of the festival and, you know, share the love. And that's what it's about. My plan, my festival model plan is to grow it by 500 people each year until we get to 3500 and stop, then address it and look at how it's feeling, I think that's a good number. If you've got that amount of people, you've got something, and a beautiful site to put it on with all the right amenities and the right infrastructure, you know, why take it any bigger unless you just want to make money? And that's never been what I've been about."
We end reflecting on the beginnings of West's musical career, his first outing in the guise of Myster E with Page 67 released 35 years ago almost to the day, and 30 years ago the release of Ebeneezer Goode. From that moment, money made was ploughed back in, to a studio where friends could learn to create, a label where friends could release their creation or The End nightclub, where DJs could play those creations to their audience. Summer Love is simply an extension of West's passion for his music and the development of talent, just another platform to share from. Or as he puts it:
This isn't just a party anymore; this is a vision. This is something that we're going to grow year on year on year into a stunningly beautiful festival with a community that has known each other for years, with new people coming in and experiencing love, and a festival that is unique in every way and that is really exciting. And that is what drives me forward. No, with Summer Love festival, it's not just a party anymore.