We speak to Moga Festival co-founder Matthieu Corosine about how it all came about, the nomadic nature of the series, the musical vibe, aims, and much more.
Moga Festival was born in Essaouira, Morocco, but has since produced a second event which is just as widely loved in Portugal, with a third location in Senegal set for 2023. Next up though is the original event in Morocco from September 28 to October 2, 2022.
Moga events are the ideal for digital and festival nomads, and encompass music, culture, food, wellness, sun and surf. They offer tasteful lineups of talents across the electronic spectrum, aiming to spotlight local artists and scenes as much as international performers. This year the likes of John Talabot, Francesco Del Garda, Moullinex, Alyssa & Gia, Parallells, Habibi Funk, Guedra Guedra, Kawtar Sadik, Mr. ID, DJ Python and more will play.
Tell us about yourself.
I'm Matthieu Corosine, 38 years old, grew up in Martinique (French Caribbean) and I have been a promoter and organiser of music events in various locations for 12 years, but based in Nice, South of France.
Tell us about the genesis of the MOGA – the first location and the inspiration behind it.
Moga was actually an inspiration that we had back in 2015, in the Tunisian desert where we produced "Les Dunes Electroniques", in a Star Wars movie location. A friend of ours who was based in Morocco called and told us that there was a Game of Thrones location in Morocco. At first we were like "oh wow," great pitch for an event, though once we arrived in Essaouira (where the entire GoT season 3 was filmed) we realised that this city was MUCH MORE than just a TV show location – the culture, the vibe, the Atlantic shore, the music, the people, feeling welcomed everywhere you go –  we instantly fell in love with this place and started imagining a festival that would put the Essaouira experience at the centre of the project.
What was key to get right, what did you want MOGA's identity to be?
The key is the Tribe, Moga is made of different music, people, inspirations from all over the world. The Moga tribe gathers in cool places along the Atlantic shores, sharing experiences and discovering new cultures. We want the festival to make a home for them where they can reunite and party.
How hard was it to get off the ground, to get the vibe you wanted?
New country, new crowd, new format… we had to start everything from scratch and first get to know the scene, the people, what they like, etc. We wanted to do things differently, get that boutique, community and experience-oriented kind of vibe, almost like a gathering of music lovers. It also has a lot to do with the city of Essaouira. Its history, cultural heritage and culture is the essence of the project.
When was the decision made to add new locations?
Moga was always supposed to travel since the very beginning of the project. We actually produced events in Lisbon back in the day and we were still in love with the place years later. In 2021, we started to go to Lisbon and study the opportunity of doing Moga in Caparica, near Lisbon, very similar to Essaouira. Lisbon that year was a good mix of digital nomads from literally all over the world – good weather, nice waves – while Morocco's airspace that year was closed. With Covid numbers better, we were able to proceed with Caparica in October, on the original dates of the festival.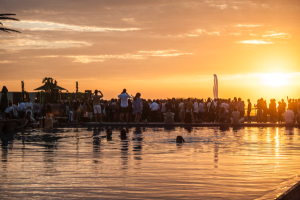 How have you chosen each one, what made a place right?
Essaouira, Caparica, now we are looking towards Saly in Senegal. Moga goes to places along the Atlantic shores, with waves, nice weather, cool people, food and culture. It's where the tribe feels the best.
Are those decisions market driven? And to what extent?
Let's say it's a good alignment of planets. Places near the ocean and waves, close to nature, but also well connected with the world, naturally attract a really cool crowd who have the best vibe. It's driven both ways as we have a very strong connection with the location we choose and it attracts people from many origins.
How much do you try to have certain things the same at each venue, so there is unity and cohesion across them all?
We work with Safae El Hakym, our head of deco, both in Morocco and Portugal. When we confirmed our event in Caparica in 2021, she told me on the phone that she would put all the decorations from the Essaouira edition in a truck and deliver it to Caparica. The crowd felt this unique touch of Morocco in the (already beautiful) venues that welcomed the festival and it made it kind of a Moga signature.
Tell us more about engaging locally to spotlight each location's culture and artists? How important is that?
People wouldn't be interested in coming to a festival that looks/feels like where they're from. They want to live something different, we want them to actually experience the country they go to, mix with locals and/or foreigners, discover new culture, music and ways of living. There are incredibly skilled, experienced and cool people working locally everywhere we go. It brings a positive and smart energy to the project to work with a local production team. But the funny part is that our teams in Portugal and in Morocco now travel to both countries back and forth and it creates an amazing synergy together, spreading the Moga mindset consistently everywhere we go.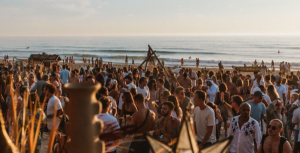 What informs the booking policy, does it reflect the location in any way? Do you try to capture a country's sound?
As the music may vary, one thing remains at the centre of the project: the experience. For that reason, we never try to get in the race for biggest acts and names for our lineups. We want the vibe to be cool, fresh, original, made of high quality artists with newcomers and OG's that can make people dance all night long. We book friends, friends of friends, artists who heard about the project and want to be part of it, we send Portuguese DJs to Morocco, Moroccan DJs to Portugal – we try to keep it simple and positive when it comes to the programme. By booking local artists and collectives it is also really helpful to draw a crowd and gain their trust. At the same time, we offer a platform for local artists to share their music, so it's a win-win type of process.
How important is community, how do you foster that and grow it with the right people?
The sense of community is a big part of Moga, we call our crowd the Moga Tribe. They gather inside and outside the festival's bounds, all year long because they share a lot of common values and music tastes, but most importantly the love of partying!
What are you most proud of with MOGA, what do you think are the best things you have achieved so far?
Making Moga an international brand and concept. We have people from around 30 nationalities coming to the different editions of the festival. I am very proud of the tribe that we created throughout the years, whether its people working or enjoying it. Moga is a real tribe with a unique family-like feeling that gathers inside and outside Moga editions. We produce many other events (completely different formats and types of music), sometimes much much bigger (up to 55000 people) but we never ever had such a strong worldwide impact
https://www.mogafestival.com/
@mogafestival
#mogatribe 
#mogaessa22