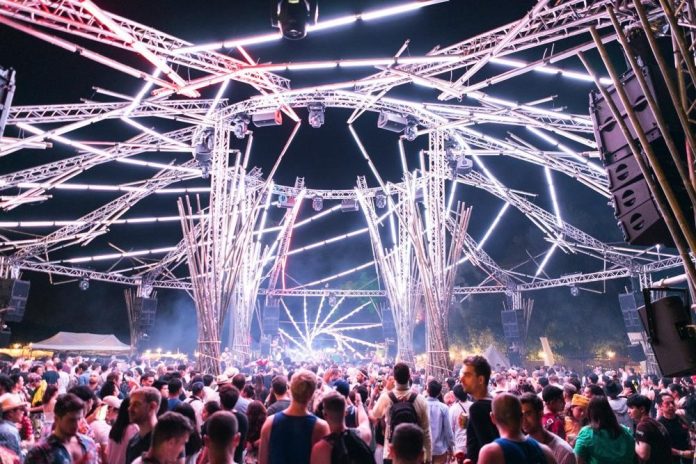 Event-focused technology company Polygon Live is claimig to have produced the world's most advanced, multi-sensory, 3D environment. Its technology will be showcased at MDLBEAST Soundstorm in Saudi Arabia from 1 to 3 December, and at Wonderfruit in Thailand from 15 to 18 December, when fans will have the chance to delight in this state-of-the-art production first hand.
Polygon claim that their cutting-edge technology involves nothing less than a complete dismantling of everything you've encountered at an event before, a relearning of what it means to interact with live sound and lighting.
Founded in 2018, Polygon comprises a team of innovative experts who have come together to create a one-of-a-kind, 360-degree space. In practice, this involves building a hemispherical truss and rigging it with a system powered by L-Acoustics' trailblazing L-ISA processor. L-ISA allows individual elements of the mix to be placed strategically throughout the soundscape, and spatialised to move 360 degrees around you. This is combined with synchronised lighting, holograms, pyrotechnics and even scent dispersion, to hep fans lose themselves in an entirely novel sensory experience.
"Traditional events typically involve a stage and an array of speakers that clearly distinguish artist from audience," says Polygon CEO Nico Elliott. "Our approach is to dismantle these boundaries. In everything we do, we're working to create a unified, cohesive, connected whole."
While there is still a stage at Polygon (one occupied by some of the best electronic acts in the world), festival goers are likely to feel as though they're almost indistinguishable from the instruments, synthesisers and samples around them. The sensation is one of fusion, of complete immersion.
"The original stereo patents are about 90 years old now," Elliott adds. "And finally, there's an alternative. A way of listening to — no, absorbing — music that is more immediate, more intense, and more visceral. Stand inside a Polygon stage, and the music moves through your bones."
"We've also designed our system so that it can be moved across the world quickly and cost effectively," he says. "Our upcoming shows at Soundstorm and Wonderfruit, less than a week apart if we consider the time it will take to derig the first and install the second, demonstrate this."
Polygon's partnership with Wonderfruit is well established, and the team has gone so far as to plant trees on site to help green the space and to reinforce the truss structure. Soundstorm and the 700,000 people it will host, offer a new playground for Polygon, and an invitation to push its limits once again. Nothing thrills the team more.