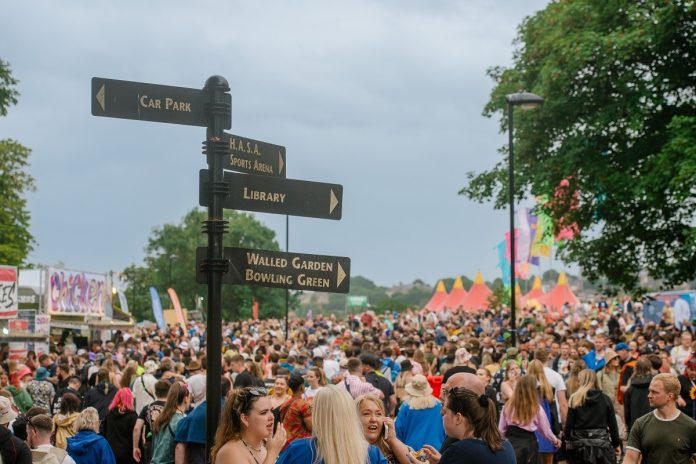 For the first time, Tramlines Festival, held at the 40,000 cap. Hillsborough Park since 2018, has commissioned a full economic report with Bluegrass Research and Sheffield City Council. The report showed that the 2022 event generated in excess of £3.8 million for the local economy, including a direct boost for the local cultural sector by funding over £500k to the Tramlines Fringe and free activities in the city centre since 2009. This was calculated by looking at the number of attendees, local contracts, accommodation, expenditure outside the event, people travelling to the city, local talent performing and local suppliers.
Tramlines 2022 raised over £50k for charity which went to the Tramlines Trust, Hillsborough Primary School, the NSPCC and The Sarah Nulty Power of Music Foundation – named after the former Tramlines' director – which gives grants to people in Sheffield using the power of music to transform people's lives. This brings the total raised since 2018 to over £150k with a 54% rise in charity donations between 2021 and 2022. Tramlines has tripled the number of charities supported since 2018.
The Tramlines Trust, created in 2022, has given out 42 funding grants with the inaugural round of funding totalling £30,183. This is distributed to a wide range of businesses who enhance, educate or support the lives of local communities in the city. The Trust also funds projects and organisations that engage with young people, support South Yorkshire's Art & Culture and support societal issues such as the environment, homelessness and health.
Over £10k of funding is going directly to businesses in Hillsborough. These include the Hillsborough Hornets Disability Football Club and The Burton St Foundation, a community organisation hosting over 2,500 people weekly including an adult social care provision. Other Hillsborough based groups include Age UK, Disability Sheffield, S6 Foodbank, A Mind Apart, The 393 Centre (Youth & Community Centre), Rivelin Co, Riva Project (disability charity) and more.
Tramlines also donated over 350 tickets in 2022 to Tickets for Good, Sheffield Young Carers and other local charities.
As part of the commitment to keep the festival supportive of local music and diversity, programming of The Library Stage in 2022 was handed over to various Sheffield based organisations. Friday saw local venue/event space DINA put together an all-female showcase with an emphasis on LGBT+ artists while on Sat, Pattern + Push (artist and comp and mentoring programme) created a huge line-up of regional rappers. vocalists, DJs and lyricists who are being supported to create positive lyrics that serve to inspire young people. On Sunday BBC Radio Sheffield were invited to use their BBC Introducing brand to bring a range of fantastic emerging local talent to Tramlines.
All this activity has not gone unnoticed, and Tramlines are delighted to reveal that they have been shortlisted at The UK Festival Awards for 'The Sarah Nulty Community Impact' Award. The winner in this category will be announced during the award ceremony on Tues 6th December in Manchester.
Timm Cleasby, Tramlines Operations Director – 'When Sarah took over as festival director, we, as a team, had many discussions about how Tramlines could keep giving back to the community and supporting Sheffield no matter how the event evolved. The Tramlines Trust builds on these early initiatives and now supports a huge amount of Sheffield charities, businesses, artists and projects. Sheffield is our home and carrying on the great work that the Tramlines founders started to support Sheffield is a big priority for us all.'
Charlie Barton, Marketing and Community Engagement Manager – 'Over the years Tramlines has supported a variety of Charities and good causes, this year we've levelled up the local support on offer. In Spring, we launched the Tramlines Trust and have distributed funds raised at this year's festival to some fantastic Hillsborough, Sheffield and South Yorkshire charities. Through the Trust, Tramlines fundraising is now reaching smaller grassroots organisations, casting the net of support wider than ever before, we can't wait to continue this in years to come and build on our collaborations with some incredible local initiatives.'
Martin Smith, Chair of the Economic Development & Skills Policy Committee, Sheffield City Council – 'Tramlines Festival is arguably the most exciting weekend of Sheffield's events calendar attracting huge talent to the city, bringing millions into our local economy and putting on a fantastic show for our residents and visitors. As Tramlines has grown over the years, organisers have always been keen and committed to giving back to Sheffield's communities. Their funding into arts and culture, and towards our local charities makes a huge difference to many people and organisations, and we welcome their continued support to the place they call home – our Hillsborough community.
 We look forward to seeing how our charities and cultural organisations benefit from this year's funding, and of course to the all anticipated line-up announcement for Tramlines 2023.'
Julie Voisey, The Sarah Nulty Power of Music Foundation – 'Not only is Tramlines a high quality, inclusive, safe and family friendly festival, it also supports local charities such as ours, through Tramlines in the Community, and goes above and beyond what is expected. Tramlines Festival is not only about fun, but also giving back to our community which is why, here in Sheffield, it is valued so highly and is an intrinsic part of the culture of our city.'