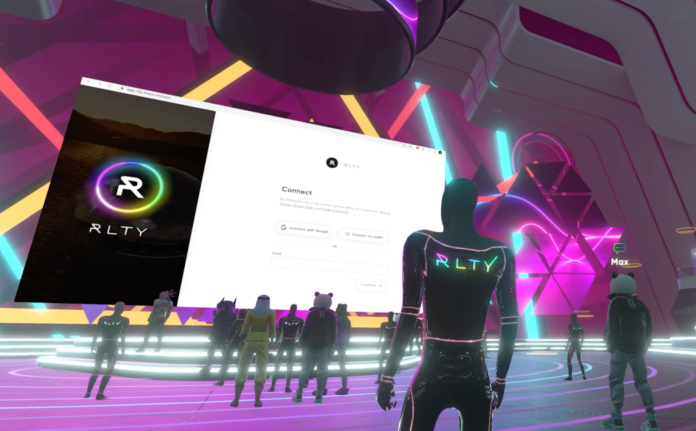 RLTY is an all new metaverse platform that offers a no-code virtual experience builder for virtual event organisers. This revolutionary new approach to designing, building and launching customised metaverse experiences allows users to go live in a matter of minutes. The newly launched private metaverse RLTY World meanwhile offers full customization capabilities, unparalleled social interaction, photo-realistic design, security, scalability and privacy.
RLTY has already made a huge impact: in 2022 it created and launched over 30 metaverse events across major metaverse platforms. From a 3-day digital fashion experience with Fabricant and World of Women and the Metaverse Summit, to MET AMS, Paris NFT Day and web3 mega-event Expoverse in L.A. RLTY have experienced almost every facet of event organisation in the metaverse and understand that accessibility, design, security, social interaction, scalability and the overall experience alone are not enough, which is what lead them to develop their own proprietary environment, RLTY World.
"We're here to change how people see the metaverse," said co-founder Zack Sabban. "We want to fill it with buzzing, immersive and brand specific events that are innovative and engaging and fully customizable to be whatever brands want them to be." 
Big names are already taking notice and partnering with RLTY to bring their events and experiences to the metaverse. Partnerships with an array of Fortune 500 companies, brands, household names and global events have already been signed and news on the collaborations will be released very soon.
In the metaverse, speed is of the essence. Current metaverse platforms have long loading times and slow frame rates. To experience them anywhere near their full capacity, a powerful and expensive computer is mandatory. Not so in RLTY World. It loads instantly from a web-browser, even with a regular laptop so gives attendees unmatched speed and accessibility.
As for those creating events, most brands believe it takes weeks if not months but in RLTY World, anyone can design and build a metaverse experience in a matter of minutes. Even with extra customisation, the most ambitious projects can be designed and built in days, meaning it has never been easier to create and launch your metaverse event or experience whether that's a pop-up metaverse event, conference, festival, or a talk and team building event.