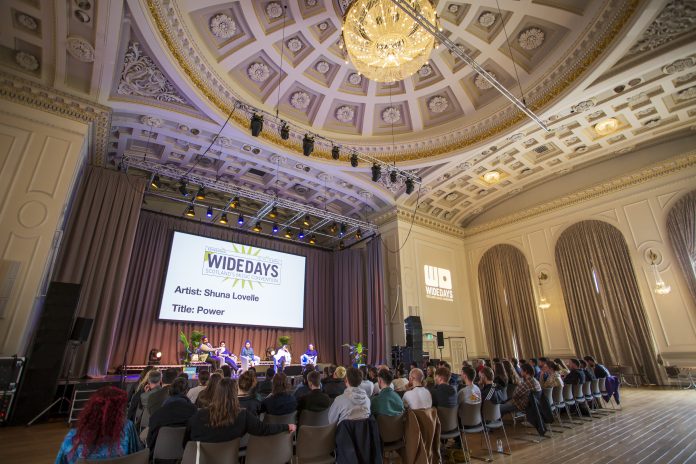 This year's Wide Days has been hailed a success by organisers and participants, attracting 350 registered delegates, up 25% on 2022 from 10 countries and all the UK nations. Taking place in Edinburgh from 13-15 April, the convention hosted delegations from Mexico and Canada, showcased a record number of acts over the three days and invited the the festivals M For Montreal and FOCUS Wales to each guest programme a venue.
Supported by The National Lottery through Creative Scotland's Open Project Fund, this year's conference included a strand on the convergence of science and music, a round table exploring where music and government policy converge and a focus on opportunities offered by sync. Moreover, two weeks before the convention, delegates were able to take part in a four-hour online workshop to prepare them for having their compositions licensed for  film, tv, games, trailers and advertisements.
"This year's Wide Days was an opportunity to further build on our international activities and highlight new opportunities for sustaining artists and music businesses," says the convention's founder, Olaf Furniss. "Over 200 meetings were booked using the delegate platform and the decision to grow the showcase programme proved a popular move, with many performances close to capacity." 
Spread across three nights, the showcase programme started on Thursday (13 April) with music from the acts on this year's talent development programme hosted in partnership with PRS Foundation. On Friday (14 April) delegates and fans were treated to the sounds of the New From Scotland showcase, which included Midnight Ambulance, who will be presented by Wide Days at FOCUS Wales 2023, along with Swiss Portrait who performed in 2022. Finally, the Saturday night lineup was dedicated to the Festival Takeover showcases from M For Montreal and FOCUS Wales, whose artists included Polaris prize nominee Laurance-Anne and a Welsh-language rapper Sage Todz.
Senior executives of the UK's leading music organisations, PPL, Music Managers Forum (MMF), Association of Independent Music (AIM) and Live music Industry Venues & Entertainment (LIVE), took part in a panel sharing their visions of the future for the industry.
The Local Heroes strand saw Regular Music's Moira McKenzie interviewed by veteran manager Bruce Findlay, while  founder of legendary indie label, Fierce Panda, Simon Williams, was in-conversation with Wide Days founder Olaf Furniss.
This year marked the first time the popular 15 Minutes of Knowledge strand was live streamed. It offered a diverse range of insights, including presentations about generating energy from clubbers' body heat, a funding guide to music mobility in Europe and a session on tackling performance anxiety hosted by the British Association of Performing Arts Medicine. These sessions can be viewed here: https://wide.ink/WD-Videos
Moreover, a dedicated strand hosted by the charity Attitude Is Everything featured talks about inclusive design, making festivals accessible and a study into neurodiversity carried out by the Association for Electronic Music.
The partnership with the Department for Business and Trade, included a four-hour, online sync workshop hosted two weeks before the convention by Mexican music supervisor, Paty Carrera, as well as a dedicated North American meeting strand and panels on Mexico and Canada.
Ana Rodriguez, president International Music Managers Forum (IMMF) and strategic consultant for the music industry in Mexico and Colombia, says: "Wide Days was truly remarkable. Not only did I gain invaluable insights into the UK music industry and connect with like-minded colleagues with exciting projects, but I was also struck by the warmth and hospitality of the people involved and the fantastic networking opportunities. The showcasing nights particularly stood out, from the music programming to the venues; I got a chance to see every show and enjoy the incredible emerging artists. This event has the potential to foster strong connections between the UK and Mexico, and I look forward to returning to continue building bridges and leveraging music as a tool for collaboration and growth."
Jon Collins, chief executive, LIVE, says: "Wide Days provides innumerable opportunities for informal and formal networking, knowledge exchange and discovering new music.  The 1:1 programme meant I had about a week's worth of productive meetings in an afternoon.  That made the whisky tasting, walking tours and bagels all the more enjoyable.  Here's to Wide Days 2024!"
Neil Semple, Deputy Head of Creative Industries, Services and Skills Directorate at the Department for Business and Trade, says: "For the first time the Department for Business and Trade supported trade delegations to Wide Days from Canada and Mexico. The UK is in negotiations to update free trade agreements with both countries and we hope these will lead to more trade between between our respective music companies." 
Peter Leathem OBE, Chief Executive Officer, PPL says: "I was delighted to attend my first Wide Days in Edinburgh last week. PPL has supported this important showcase ad conference event since its inception, and I had the pleasure of hosting a panel featuring Annabella Coldrick from the MMF, Silvia Montello from AIM, and Jon Collins from LIVE.  It was a fantastic opportunity to discuss the current state of the music industry and learn from some of the best in the business. Congratulations to the Wide Days team on a great event."
The 15th edition of Wide Days is set to take place 1-3 May 2024. Super-discount tickets are now available from www.widedays.com/tickets