Omnia Therapia, a unique fusion of music, healing, ceremony and community, promises to take attendees on a deep and soul-stirring journey that transcends the boundaries of conventional retreats and festivals. The 350 capacity event takes place in Bizerte,  Tunisia, from 20 to 25 September.
With roots in the underground alternative culture of the 1990s, Omnia Therapia is group of underground party people who have been at the forefront of that culture for the last 30 years, reflecting their  personal growth and evolution, while still maintaining the ideals and spirit of the underground. In keeping with those ideals, prices have been kept as low as possible with the added bonus of three meals a day and access to all workshops, ceremonies and performances being included in the price.
Organisers say that the event will transcend the boundaries of traditional retreats and "Conscious festivals" and create an immersive journey like no other. From the moment guests step onto the site, they will be entering a space "outside of time" The setting, on the wild and hauntingly beautiful Tunisian coast, will immerse them in the power of the elements and the ceremonies and therapies on offer will take participants through an initiatory process where they will be encouraged to set intentions for positive change, look deeply within and utilise the various healing modalities on offer to learn, heal and grow.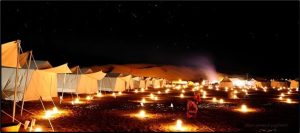 Daytime workshops include Yoga, Tai Chi, Shamanic journeying, Psych K, Sound healing, conscious movement, massage, nutrition, naturopathy, aromatherapy, reflexology, breathwork, energy therapy, ecology, natural beekeeping, local living and foraging, plant medicines, women's wellness and more. There will also be communal art and crafts and people will be encouraged to express their creativity and self-expression.
The Artist lineup, curated by Jeff Catchpole, AKA Jeff23/ Asipu from sp23 and Spiral Tribe, brings together an eclectic mix of old-school dons and up-and-coming talent. The Artists were selected for their dedication to their craft and their ability to improvise, transcend genres and create an atmosphere where the separation between performer and crowd disappears. Headlined by the artist of Tunisian descent Azu Tiwaline, the lineup also includes La troupe Stambali Sidi Ali Lasmer, Colin Dale, The Maghreban, Wave Arising, Asipu, Beatum (Drop'in caravan), Paul Jove, Keimo, Iggy the Doctor and Karim Tikita.
"Omnia Therapia is more than an event; it is a movement," says Jeff Catchpole, the visionary force behind the project.
"We believe in the power of music, healing, and community to catalyse personal and collective transformation. Our goal is to create a space where individuals can awaken their true potential, connect with others on a deep level and be agents of positive change in the world"
https://omniatherapia.life/