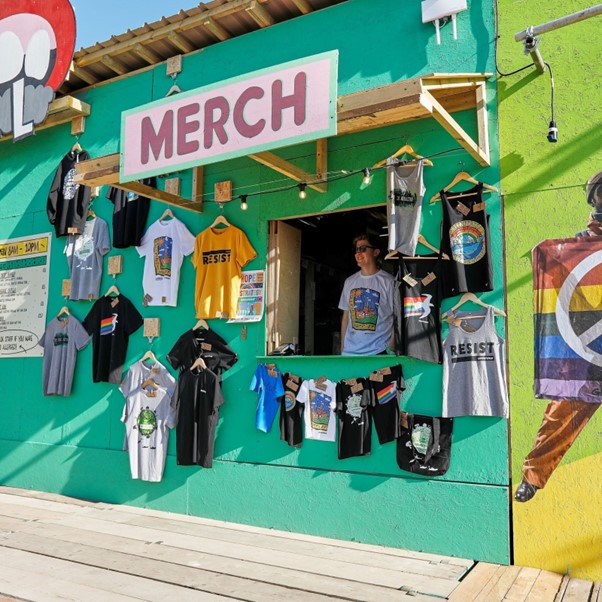 Chris Houghton, CEO of The UK Festival Awards' Official Merch partner,  Teemill, explains how their sustainable model for branded apparel radically reduces waste and gives customers exactly what they want.
Across the board, consumers are seeking sustainable options.  When you consider the stats on pollution in the textile industry and waste in the festival industry, that's a tricky demand to meet.  10% of worldwide CO2 comes from clothing, 60% of clothes include plastic, and a truckload of clothing is burned or buried every second.  Then, when we look at the waste produced by UK festivals alone, it's close to 24k tonnes a year.
The stats can be daunting, but the increasing consumer appetite for environmentally sound products also creates a huge opportunity.  We know that merch is a key element for those in the live event industry and we can provide vendors with a sustainable solution, to meet demand without hurting the planet.
In meeting that goal, we've looked at every part of the production process, starting with the natural materials that go into our products, to the renewable energy that powers our modern factories, and the plastic-free packaging that we use to ship orders to customers.
What's unique about our production model is the circular design.  Every product we make is designed from the start to be sent back to us at the end of its life, to be recycled and turned into new products so they're kept out of landfill.  With a simple QR code on the wash-care label of every garment, customers can easily return old products in exchange for a discount on new ones.
It's not just about improving the quality and eco-credentials of merch on offer.  We also want to limit surplus stock, to reduce environmental impact and improve profitability.  Our print-on-demand model is key to this and it's now used by some of the world's best brands.  With this model, our partners don't have to order stock speculatively.  Instead, they can offer their designs to customers online, which are printed and shipped in the moments after the customer has made their purchase.
The tricky balance in the events world is making the most of the live buzz, with customers ready to spend on the day, whilst utilising the benefits of print-on-demand production.  We've been working with brands to provide hybrid models of production, which maximises the time window for merch sales either side of an event and informs wholesale stock orders ahead of time.
We recently worked with Camp Bestival to offer merch online ahead of their events, all of which is printed on demand in our factories.  These pre-event orders then inform their bulk stock orders for each festival, as design preferences and trends data is already available to them.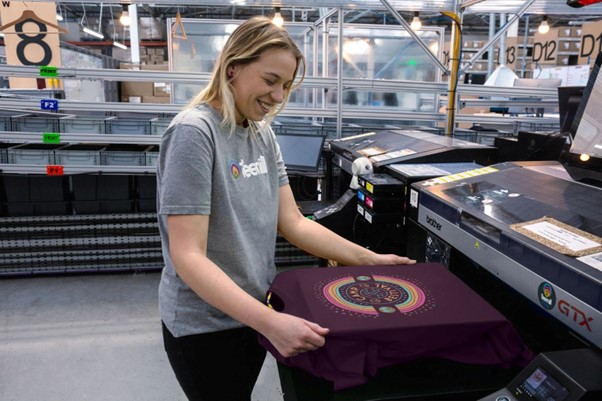 It's even proving possible to sell merch during a live event without stock on site.  We've worked closely with musician KT Tunstall using this model at her concerts, with samples on display alongside shoppable QR codes.  Each code takes customers directly to KT's Teemill-powered store to make a purchase, which is then received at our factory to be printed and shipped straight to the customer's address.
While the details of how we produce quality printed products is important to the retailer, we find customers really connect with the story of sustainability, increasing brand engagement and conversion.
It's been great to see our hard work pay off. We've been able to work with amazing brands like Greenpeace, Music Declares Emergency and BBC Earth. We've even been recognised by the World Economic Forum and United Nations as  "leading the way" on sustainability, and been used as a case study for what renewable business models of the future might look like. We're excited about what our tech can contribute to future solutions in the textile and festival industries. We want to help brands become a force for change.
To talk through sustainable merch options for your event, email hello@teemill.com or visit teemill.com.