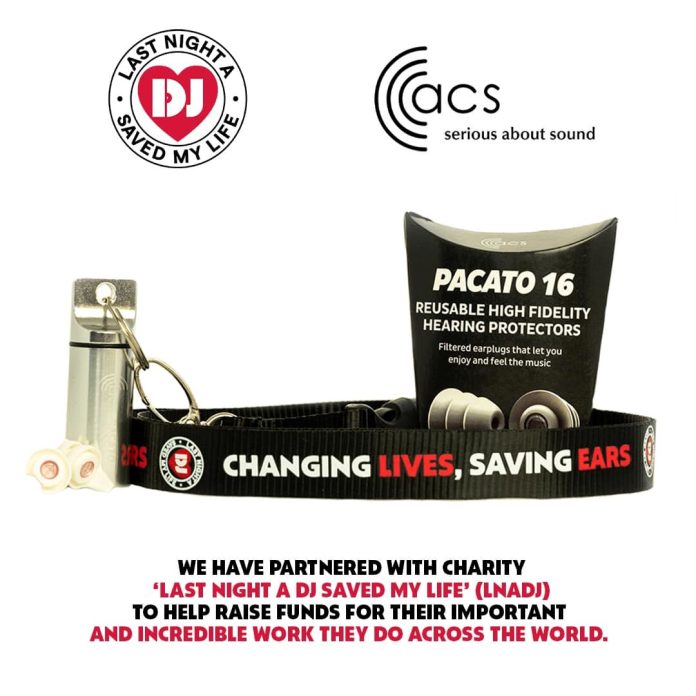 UK Festival Awards Charity Partner, Last Night A DJ Saved My Life (LNADJ) are excited to announce their brand new partnership with ACS Custom for a cause that truly matters, encouraging the festival industry to Jjoin us in Changing Lives and Saving Ears.
Last Night A DJ Saved My Life is a charitable foundation dedicated to empowering
children and young people through grassroots projects. They harness the power of
music and art to improve lives and create opportunities for individuals and their families.
Their work is fuelled by a passion for dance music culture and the belief in its unifying
potential.
By teaming up with LNADJ, ACS is committed to supporting their important and
incredible initiatives.
"I've always personally and professionally been impressed by the incredible and life
changing work that Last Night a DJ Saved My Life (LNADJ) do globally ever since
meeting Jonny Lee way back in the early days of the Brighton Music Conference. I've
always wanted to be involved in some way and help support them. Jonny and I have
talked many times when we meet at music events to see how I and ACS could
collaborate in some way. This current idea, change lives – save ears, came to us sitting
on a wall chatting overlooking the Mediterranean in Ibiza, which was nice", says Jono
Heale: Director. ACS Custom
We are thrilled to announce that 16% of every sale from our Festival Edition ACS Pacato
16 earplug will be donated to LNADJ.
The Pacato 16 Festival Edition is not just an ordinary earplug. It offers the best
high-fidelity frequency response in its class, delivering an exceptional music experience.
With its universal fit design, the Pacato 16 provides unmatched comfort and is ready to
go whenever you are. Feel the music, embrace the bass, stay connected with your
friends, and extend your safe exposure time, all for just £12!
When you choose the Pacato 16 Festival Edition, you're not only protecting yourself
from music-induced hearing loss and tinnitus at loud music events and nightclubs, but
you're also contributing to a meaningful cause.
https://acscustom.com/…/acs-pacato-16-festival-edition