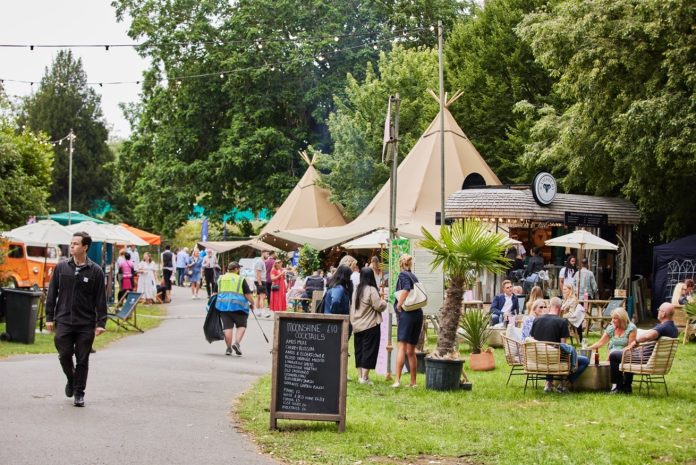 Savour, London's fastest-growing food and drink event, was brought to life by The Fair in July (21 – 23).
The festival, London's self-acclaimed "Food Wonderland", gave over 10,000 guests the chance to enjoy some of the capital's most celebrated cuisine in the picturesque surroundings of the Royal Hospital Chelsea Gardens, which has only hosted a festival once in its 114-year history.
This year marked Savour's second year transforming the heart of London into a tantalizing food wonderland, but this was the first time The Fair produced the event. The live event production company provided the full, 360 package, including production, procurement, site design and site management services, as well as operations, licensing and health & safety through sister agency We Are OPS.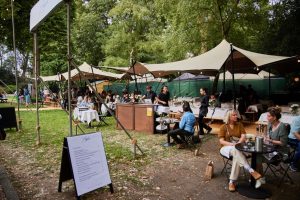 From food traders to full-scale restaurants and Michelin-star chefs, diners were given the opportunity to enjoy food cooked by some of the capital's most current and exciting chefs. Angelina in Dalston, Kricket in Soho, Notto Pasta Bar in Piccadilly and Frenchie in Covent Garden were amongst the renowned restaurants offering a selection of experiences – whether it be dishes, supper clubs or masterclasses.
Robbie O'Neill, Production Manager for The Fair, said: "The team and I have had an exceptional time bringing this festival to life, and it's been really successful.
"The Savour team have a really interesting and unique vision. Getting 120 restaurants, bars and food traders – some of whom haven't necessarily worked at an outdoor event before – to cook for guests in this setting, was incredible. Eating some of the best food in the city in a beautiful garden, it doesn't get much better than that!"
"Festivals like this can present unique challenges that those solely working in music events may not consider. Some of the on-site kitchens, for example, were demanding the power equivalent to that of a large stage at a music event, and we had eight this size.
"Given the glorious natural surroundings we were working in, which the local community has huge ties to, another huge focus of ours was to preserve the 'park feeling' as much as possible, which can prove a challenge when you have such a tremendous amount of infrastructure on site.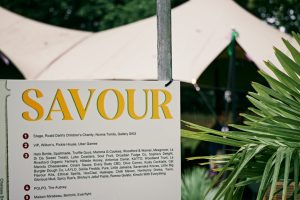 "But were able to take a lot of the logistical pressure off the client's hands, and allow them to focus on the creative process. For an event of this type and of this scale, that's really important.
"It was also great to have our sister agency We Are OPS by our side. We couldn't have done it without them there to manage crowd flow and security, audit all 120 traders, and secure the licensing for the entire event.
"We've received very lovely feedback from Savour guests, as well as the client, who is really keen to work with us again."
The Fair is renowned for producing some of the UK's most exciting music festivals, including GALA, El Dorado, Eastern Electrics and Boiler Room: London to name a few.
In recent years, however, the London-based agency has also started taking on a wider range of events, including the likes of RecFest – the world's largest Talent Acquisition festival – and Savour.
"Working on events like this proves just how versatile The Fair is," Robbie said, "Our skill set applies to a broad range of different events."
Alex Davis, Founder & Director of Savour Events, said: "Working with The Fair has been an absolute privilege. Their team, characterized by resilience, honesty, fearlessness, and an unwavering commitment to hard work, has been a joy to collaborate with.
"The stress of delivering a festival is unparalleled. The fear, complications, weather, and the sheer scale of delivering for so many people make it a backbreaking task. Yet, walking into a site office and being greeted by a team working around the clock with smiles on their faces was nothing short of refreshing.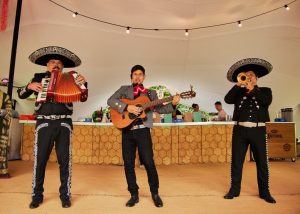 "The overwhelming sentiment when working with The Fair is that they are a team that will get the job done. They are unflappable, a team of doers, not takers. In short, they are an incredible team.
"Thanks to the combined efforts of everyone involved, Savour Festival has had phenomenal reviews, been coined the best food festival in London in 100's of posts and reels. This is a testament to the hard work, dedication, and passion that has gone into creating this extraordinary event and we can't wait to do it again with the Fair team."
Nick Morgan, CEO of The Fair, said: "It was a pleasure working with Savour to deliver this unique festival, and both the fair and the OPS teams did a great job delivering under challenging weather conditions.
"Royal Hospital Chelsea Gardens is as an amazing setting for a food festival, which mixes modern and traditional cuisine. To see Chelsea Pensioners mixing with the public was humbling given their service, and it was delightful to see how excited the public were to meet them.
"We look forward to continuing to work on a diverse range of events across the industry and have a very strong pipeline for 24 and beyond."