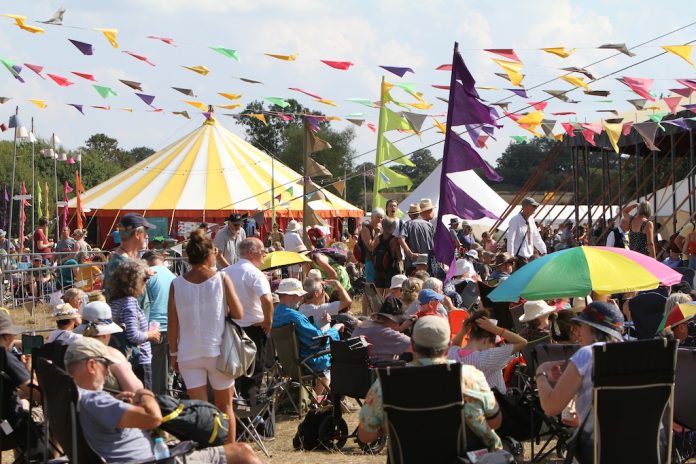 Towersey Festival, the UK's longest-running, independent family-run festival of music, arts, and culture, has announced its full programme as it lands at Claydon Estate near Buckingham this August Bank Holiday. Over four days from Friday 25th to Monday 28th August, the 59th edition of Towersey is a chance to step into a different world of music, comedy, dance, activities, workshops, creativity, camping, and a whole lot of fun.
Over 12 areas, each with its own personality and four of those stages dedicated to the finest music, festival-goers are in for a treat this year. Confirmed headline acts are The Proclaimers (Friday), Frank Turner (Saturday), and Divine Comedy (Sunday).
A host of other unmissable talent spanning everything from roots, Americana, and even a funky folk orchestra, includes the platinum-selling, Grammy-winning trio Nickel Creek (back after a 9-year hiatus), Thea Gilmore, Rusty Shackle, Molotov Jukebox, Gwenifer Raymond, Hannah Sanders & Ben Savage, Flook, The Shapes, Gnoss, Urban Folk Quartet, John Kirkpatrick, Pearl Heart and many more.
The Towersey programme also reveals a huge range of participatory entertainment for festival-goers, whatever their age. Whether staying for the weekend or just the day, those seeking fitness and fun in the morning can join a 250-person strong class with an ex-Royal Ballet teacher, or for something more zen, yoga and tai chi sessions are on offer too.
It's impossible to be bored at Towersey. Whether witnessing from the sidelines or taking part, Towersey Festival prides itself on the fact that anyone who attends can go home having learned a new skill. The 2023 programme is full of creative and fun-filled workshops including circus and juggling skills, axe throwing, bushcraft, Bodhran workshops (traditional Irish drumming), a Fabulous Festival Choir, sessions from the Buckingham Ukulele Group (imagine 350 people playing along!), late-night acoustic jam sessions, and even a Melodeon jam or a bell-ringing workshop.
For those who love to dance, the Towersey programme includes traditional Ceilidh (think barn dancing meets line dancing meets Irish dance) – one of the most popular activities of the weekend with hundreds of guests joining in the fun. Or, for something different, there are introductions to Tango with the Buckingham-based group Dance Balance, shows and workshops with the Oxford Sol Samba dance group, and for a traditional folk experience, why not try a Maypole dancing session.
The Towersey programme has it covered for parents of young children with a dedicated range of entertaining drop-in activities throughout the days including sing-alongs, storytelling, improv drama, dancing, arts and crafts, nature walks, and much more besides.
For all ages, there are wild medicine workshops, interesting talks and walks including a trip to see the bats with the North Bucks Bat Group, as well as KUBB games, art classes, late-night quizzes – the list goes on.
Towersey strives to be eco-friendly and festival-goers are encouraged to bring some old t-shirts and sweatshirts, and try Hannah B's Upcycling Clothes workshop – learn how to pimp those old clothes into something new.
The sense of community and belonging at Towersey is summed up by the lantern-making workshops. Hundreds of guests create beautiful lanterns out of wicker and paper, which are then lit to form a stunning procession around the site on Monday, creating a lovely and unforgettable moment to close the festival.