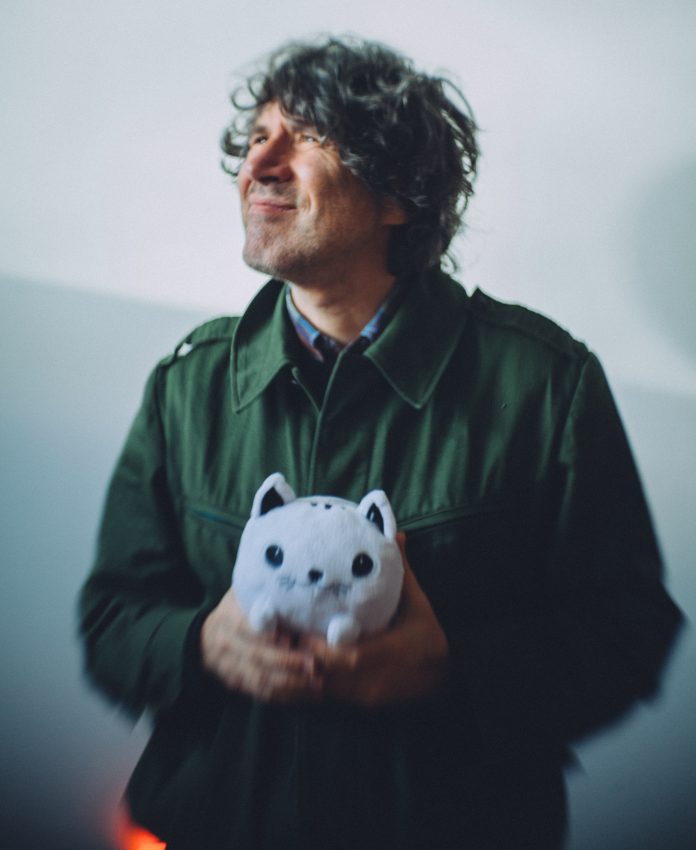 Yann Tiersen, Gruff Rhys, Deerhoof, Cerys Hafana and Rozi Plain are among the local and international artists performing at the fifth edition of Ara Deg Mae Dal Iâr (AD23), an accessible, all-ages festival in Bethesda, north-west Wales on Thursday 24th, Friday 25th and Saturday 26th August 2023.
Ian F Svenonius and Escape-ism, Quinquis, Cathead and Permanent Draft are also set for this year's Ara Deg, which aims to stage experimental and eclectic offerings that will open minds in the Gwynedd quarry town on the edge of Eryri National Park.
Performances will be held at community arts hub Neuadd Ogwen, Bethesda's original cinema and village hall, with the Fic pub next door hosting a record fair on Saturday August 26th and broadcasting Radio Ara Deg throughout the festival. Further pop-up events and associated goings-on will be announced in the coming weeks.
A mix of acts with international careers spanning decades such as Tiersen, Svenonius and Deerhoof with newer names such as Hafana, Quinquis and Cathead, the artists on the line-up, selected by the AD23 decentralised planning committee, are united by a sense of experimentation and curiosity – not just in terms of their own creativity but also in relation to the wider world of 2023.
Opening the festival will be the mesmerising electronic soundscapes and Breton songwriting of Quinquis aka Émilie Tiersen, who sails to Ara Deg with world-renowned artist-composer Yann Tiersen on their boat Ninnog, named after Saint Ninnoc, a mediaeval abbess reputedly born in Wales who travelled to Brittany to become a protector of women, agriculture and woodland. Having already voyaged from their island home in Ushant to perform in Ireland, the Faroe Islands and Shetland, the Breton artists view their Ninnog tour as a political statement challenging the ecological impact of established large-scale touring and as a means to establish connections with new communities.
In 2022's 'Seim', her debut album for Mute as Quinquis, Émilie's haunting, evocative electronica explores nature and the stories and culture of Breton, the only Celtic language remaining in use in mainland Europe. Quinquis will be followed by Permanent Draft, the queer record label, micropress and live project founded by writer/poet Fanny Chiarello and musician Valentina Magaletti a London-based drummer, percussionist and composer whose work is informed by folklore, collaboration and endless experimentation with new materials, sounds and stories.
Thursday's concert will end with the emotive harmonies and switched-on, stream-of-conscious songs of Rozi Plain, who returns to Ara Deg following her 2022 visit playing bass with her band This Is The Kit. With 'Prize', her recent fifth solo record, Plain explores the calm reflection of the present moment as a way to begin to navigate the uncertain future.
Opening Friday's performance will be Cathead aka Gwen Siôn, an experimental composer and multidisciplinary artist from the nearby village of Rachub. Currently being mentored by Brian Eno, Siôn works with sound, film, sculpture and installation to create works inspired by ecology, mythology, ritual and transformation, often using non-traditional composition methods, field recordings and hand-built instruments and electronic sound devices using physical fragments of the landscape.
Also performing on Thursday is young Machynlleth artist Cerys Hafana, a master of the triple harp. Though commonly known as the Welsh harp, the three-rowed instrument originated in Italy before being adopted by Welsh musicians in 17th century London. In 2022's 'Edyf' ("thread"), a Guardian Folk Album of the Month, Hafana investigates the contemporary resonances of songs unsung for 200 years she found in the archives of the National Library of Wales with lithe, textural vocals, glistening melodies and a raw, percussive edginess that's sharply contemporary. Writing in 2022's 'Welsh (Plural): Essays on the Future of Wales', Hafana explains how Welsh folk music can be told "as a story of change, of new influences and ideas being brought in by people from other places, and a story of new struggles and challenges that will inevitably enact changes over the centuries."
Hafana is followed by a set from Yann Tiersen, himself a lover of Celtic languages, including his native Breton. Though best known across the world for film soundtracks (eg Amélie, Good Bye, Lenin!), Tiersen has been involved in music for most of his life, forever pushing boundaries of genre and instrumentation as a recording artist, live performer and collaborator with a galaxy of artists from Dominique A and Françoiz Breut to The Divine Comedy, Elizabeth Fraser, Sage Francis and the late Jane Birkin. His set coincides with the release of 'Kerber Complete', a CD box set charting the evolution of his Kerber project from stripped-back piano work to its electronic resolution '11 5 18 2 5 18'.
Like Tiersen, the ever-evolving careers of Saturday's performers stretch back to the 1990s, with Ian F Svenonius making his album debut in 1991's post-hardcore teen rebellion manual '13-Point Program To Destroy America' as part of breakneck Washington DC noisemakers The Nation of Ulysses. Svenonius has headed several similarly irrepressible outfits over the years, such as The Make-Up, Weird War, Chain and The Gang, and current project Escape-ism. Svenonius, also a published author and online talk show host, will open the day with a lecture relating to his latest "book to end all books" 'Against The Written Word' and a screening of 'The Lost Record', his first feature length film made in conjunction with Alexandra Cabral, shot on 16mm about a girl torn between revealing a lost masterpiece album to the world or keeping it all for herself.
Svenonius will subsequently perform as Escape-ism, their abrasive, high energy rock 'n' roll offering contrast to the sweeter, though similarly omnivorous vibes of Gruff Rhys whose recent work includes 2021's 'Seeking New Gods', a visionary psychedelic pop album inspired by Mount Paektu, a desolate stratovolcano on the North Korea-China border, and 'The Almond and The Seahorse', a teaming, evocative soundtrack to Celyn Jones and Tom Stern's 2022 film about rebuilding life after brain injury starring Rebel Wilson and Charlotte Gainsbourg.
Ara Deg's final live performance of 2023 will come with Deerhoof, the influential San Francisco experimentalists whose recent nineteenth album 'Miracle-Level' was described by Under The Radar as "a celebration of the human spirit, one that offers optimism and wonder in the face of pessimism and hopelessness."
Radio Ara Deg will be broadcasting throughout the festival live from the Fic pub via Soho Radio including interviews and live sessions with AD23 artists.
Other events and pop-up performances will be announced in the coming weeks taking place in and around Bethesda, a creative quarry town located close by the splendour of Eryri's multiple mountain ranges, tranquil valleys and ancient woodland.
Camping can be found at Eagle Camping at nearby Bethesda Rugby Club.
Since 2019 Bethesda has welcomed acclaimed artists such as Aldous Harding, BCUC, Jane Weaver, mùm, N'famady Kouyaté, Sage Todz, Snapped Ankles and Troupe Djéliguinet for Ara Deg, which is planned and run by a collective centring on community arts space Neuadd Ogwen.
As well as a £50 weekend pass offering access to all three days' performances, tickets are available for each day, with concessions for unemployed people, pensioners and students and discounted prices for those aged 6 to 15. Under 5s go free.
Gruff Rhys, part of the AD23 decentralised planning committee, says: "The idea with Ara Deg is to put on good music, but not to the point of fatigue or to have too many acts to digest meaningfully. 
We invite musicians to play longer than a usual festival set if they want to, and nobody is going to clash with another act. We hope to expose local ears to diverse sounds and ideas from across Wales and the world and expose our guests to the cultural, scenic and linguistic wonders of Eryri. It's a small 400 capacity festival so hopefully it doesn't overwhelm the area either."