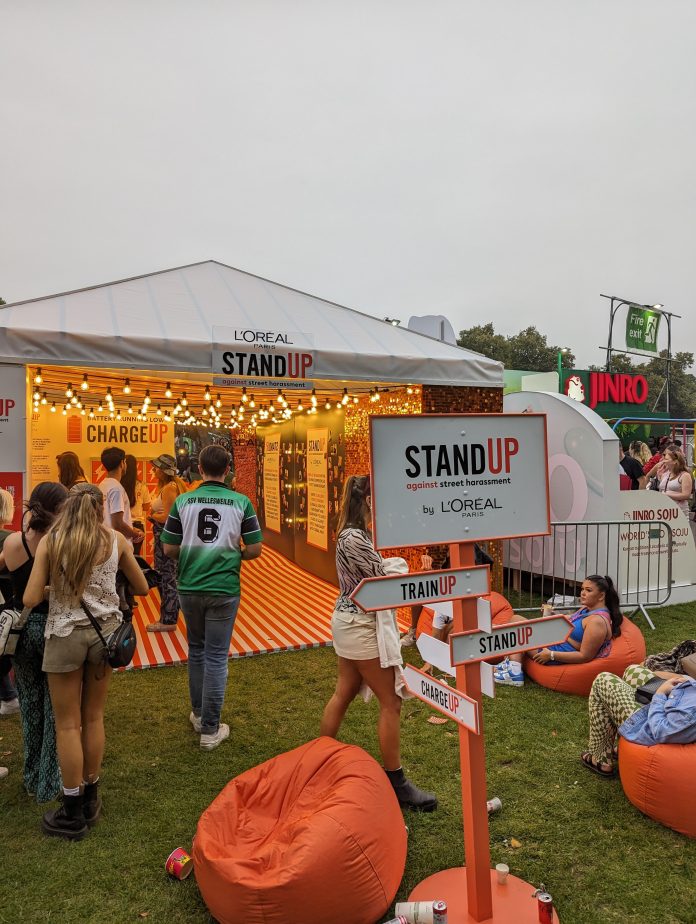 When Luno presents All Points East returned to London's Victoria Park last month, L'Oréal Paris, partnered up to take a stand against harassment.
With a YouGov survey revealing that 80% of women in the UK say they have been sexually harassed in public spaces, the partnership supported women, festival staff and allies to learn more about personal safety.
Living by its tagline, 'I'm worth it', L'Oréal Paris actively looks to combat street harassment through its global Stand Up programme.  The training has been delivered nationally since April 2022 by The Suzy Lamplugh Trust, the UK's pioneering personal safety charity and leading stalking authority, whose mission is to reduce the risk and prevalence of abuse, aggression, and violence. It aims to empower everyone to be active bystanders when they see harassment taking place, and safely help to help to defuse situations, discourage harassers, and support victims.
As a leader in music and live entertainment, AEG Presents has an unparalleled commitment to artistry, creativity and community, and has long been dedicated to ensuring its festivals provide safe and supportive environments for all fans.  This year, festival goers were able to receive free anti harassment training and sign up to learn more about the Stand Up campaign. All 500 employees working at the festival were trained in Stand Up, helping them identify and address potential harassment at all events they are employed at in future.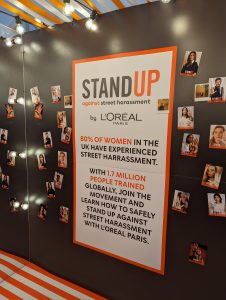 The partnership will also see L'Oréal Paris extend the Stand Up message across the festival, through its sponsorship of the Emerging Talent stage. Paris Paloma and many other artists will highlight the role of Stand Up in their sets and encourage the festival crowd to sign up to the training.
Lynsey Wollaston, VP and GM of European Festivals at AEG Presents, commented: "We run more than a thousand events across the UK every year, and it is very important to us that we provide safe communities and support initiatives that help to reduce harassment in all public spaces. Our partnership with L'Oréal Paris brings a new dimension to our commitment by providing training for our fans and our staff, which they can take away with them, helping them to feel safer and more confident wherever in the world they may be. No one should ever feel harassed, and L'Oréal Paris' grassroots activity at the festival will spread the message on what to do if you feel threatened or witness inappropriate behaviour."
Nothing impacts personal safety and increases feelings of vulnerability more than a phone that needs charging. L'Oréal Paris, in partnership with its creative agency McCann, provided an experiential safe space at the festival, Charge Up to Stand Up, with festival goers  invited to take a moment to charge their phones and relax in a comfortable environment where they found out more about the Stand Up programme and were empowered to take charge of their personal safety with a recharged phone.
To raise further awareness of the initiative amongst festival goers and music fans everywhere, L'Oréal Paris partnered with  NME, which captured live content during Luno presents All Points East and directed readers to sign up to the Stand Up training through its website and social platforms.
The partnerships with AEG Presents and NME were led by media agency EssenceMediacomX, which was responsible for the partnership strategy, media planning and buying. McCann was responsible for curation of the stage videos and the design of the pop up space.
Helena Osborne, Head of Consumer Engagement, L'Oréal Paris, said: "We are proud to take a leading role in addressing the ongoing issue of sexual harassment in public spaces. Our partnership with AEG Presents and NME will bring our training to, a wider audience, helping them learn how to make all public spaces, such as festivals and sporting events, safer for everyone."