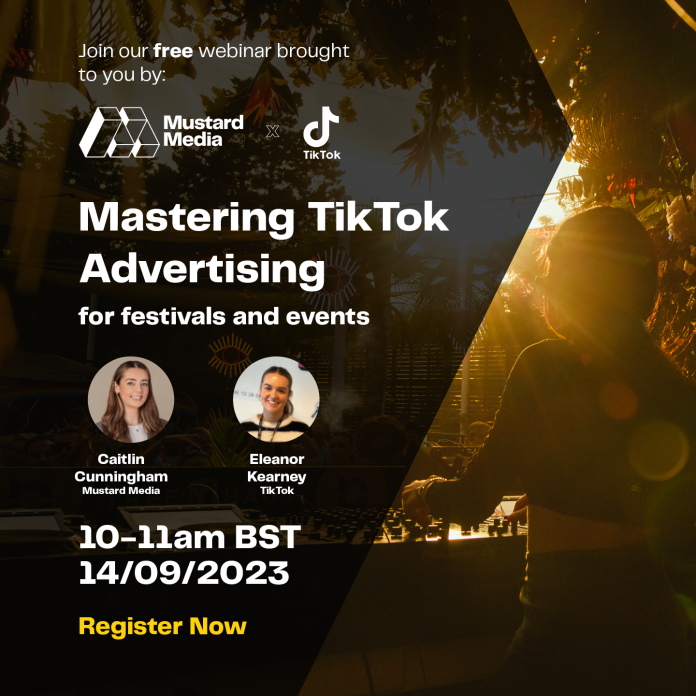 Our friends at Mustard Media are hosting an exclusive webinar with TikTok, Mastering TikTok advertising for festivals and events.
The webinar has been designed to unlock TikTok's Ticket selling potential, with Caitlin Cunningham,  Senior Paid Media Executive, Mustard Media and Eleanor Kearney, Agency Partnership Manager, TikTok.
This is your chance to get your burning TikTok questions answered, your opportunity to unlock the power of TikTok to boost your ticket sales.
The webinar will be covering be covering:
How to drive ticket sales for your event through effective advertising
Creative best practices
Tips for launch season, Q4, 2024 and beyond
How to get started with TikTok advertising
The power of TikTok for festival and event brands
During the session you'll learn how to:
Launch your next campaign on TikTok
Drive sales for your event from TikTok
Create content to attract and convert
Run ads on the platform to increase awareness, following, and sales.
Get ready to elevate your event marketing game with TikTok! 🎊
Link to sign-up here:
 https://mustard.webinargeek.com/mustard-media-and-tik-tok-present?cst=ukfa