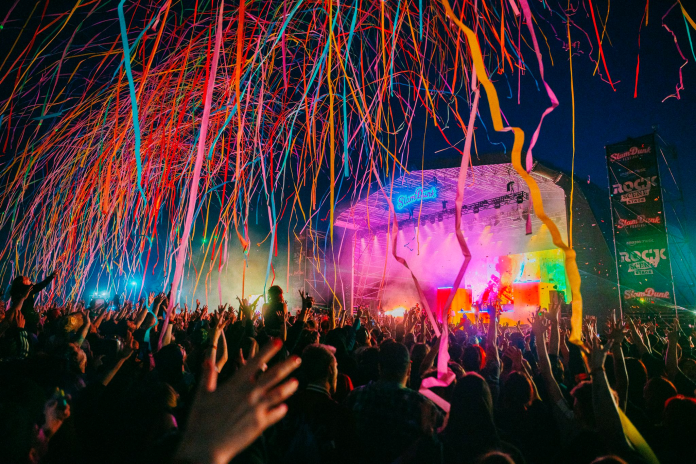 After selling out in 2023, Slam Dunk, described by NME as one of the UK's most exciting young festivals, is sharing its first drop of artists for next summer as tickets get set to go on sale and dates are revealed. A veritable feast of all things pop-punk, emo, metal and alternative music, You Me At Six, The All American Rejects and I Prevail top the bill, alongside Funeral For A Friend, Asking Alexandria, Waterparks, Palaye Royale, Pale Waves and tons more. Slam Dunk will return to Hatfield Park on Saturday 25th May, before heading back to its home in Leeds, Temple Newsam on Sunday 26th May 2024.
You Me At Six's Josh Franceschi said, "Looking forward to returning to Slam Dunk this year to headline the festival. Slam Dunk has given You Me At Six so much over our career & we've got a lot of special memories from performing there over the years. The line-up is stacked with great artists, so will be an elite one."
Also on the bill, Boys Like Girls who delighted fans as they released 'SUNDAY AT FOXWOODS', their first album in over a decade just last week! Plus punk-rock legends We The Kings who produced some of the biggest pop punk hits of the 00s and Head Automatica who invite Slam Dunk festival goers to join them in celebrating Decadence's 20th anniversary.
Welsh emo rock legends Funeral For A Friend join the line-up, having just rounded off a huge 20th anniversary celebration of their seminal album 'Casually Dressed And Deep In Conversation'. Brit metalcore titans Asking Alexandria are on the bill, too, following their latest album release, a #1 smash in the US, Where Do We Go From Here?, as well as Cody Carson's Set It Off.
Houston TX's finest pop-punk export, Waterparks have been busy – they've just dropped INTELLECTUAL PROPERTY, announced a North American Tour and today they're revealed on the huge line-up for Slam Dunk! Vegas' own alt-rock trio Palaye Royale will serve up their unique theatrically tinged performances complete with a mega dose of glamour and enigmatic style, while the moody, melodic Manchester four-piece Pale Waves join the line-up, with a catalogue of anthemic pop-punk hits. Plus, there's experimental punk duo Bob Vylan, the alt scene's spectacular RØRY as well as Leeds' very own alt-rockers Artio making their Slam Dunk debut.