Steve Jenner, TagMix's Director of Festivals, posits that the universal reliance on paid online advertising is a relic that's costing events more than it's saving. He points to a pioneering wave of marketers who are sidestepping this costly gamble in favour of a more potent and pocket-friendly strategy—using high-impact, emotion-driven video content that capitalizes on organic reach and direct audience engagement.
Lakefest's success, marking their first full sell-out in over a decade, credits the innovative approach of TagMix in amplifying their social media reach and engagement, showcasing the potential of this medium.
Paid-for advertising on social media platforms is for organisations who lack creativity and an access to audiences. Festival organisers have no scarcity in those areas.
So what's the alternative?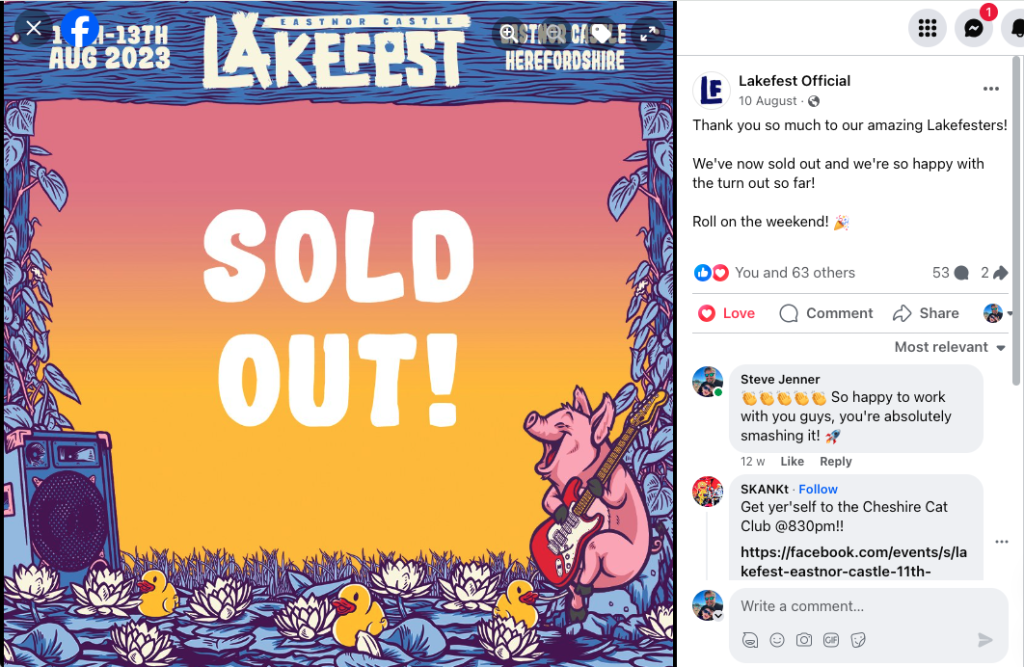 Online video is now widely acknowledged to be the most powerful online sales tool in e-commerce, and it is especially potent for selling experience-led products that people consume in order to feel happy. Such as festival tickets.
The formula is disarmingly simple yet profoundly effective:
1) Emotion Through Motion: Video content is 74% more likely to entice clicks and 184% more likely to convert sales. TagMix's exceptional sound and visual quality mean your promotional videos outperform competitors by over 300% in views and engagement (source: the 20 UK festivals that used TagMix this summer).
2) Peer Power: The Chemical Brothers' recent UK tour leveraged TagMix to turn each fan into a marketer, resulting in a completely sold-out show in London's 20k cap O2. One post, a flurry of fan tags, and the magic happened. See the social buzz here: https://www.instagram.com/p/CzD_xOYgcrw/
3) Tapping Into Your Artists' Networks: With 78% of artists reposting our TagMix videos, the reach is explosive, connecting your festival to many millions of potential ticket buyers with just a click.
4) Building an Army of Super Fans: Transform casual attendees into Super Fans who bring 3.6 friends and outspend the rest onsite by £45 on average. Engage them all year with content that never lets them forget how incredible your festival looked, sounded and felt.
5) The Ultimate FOMO: In the age of FOMO, TagMix is your greatest ally. With our content, the fear of missing out turns into tickets sold. Don't believe me? Experience the power here: https://drive.google.com/file/d/1olLOqTnbE8wDRD9pPfpbm2pTSNo4wfIf/view?usp=drive_link
6) Going Viral: This TagMix clip from this year's Cambridge Club Festival amassed 10.7 MILLION views! Virality is not a myth; it's a matter of strategy with TagMix. Catch the wave here: https://www.facebook.com/reel/646636140316472
7) The Rule Of 7: States that people buy a festival ticket (on average) after seeing a promotion for it 7 times. Regular posting of TagMix quality videos can significantly reduce the time from first contact to ticket purchase.
Video content is no longer just a medium; it's the lifeblood of a new era of festival promotion, offering a sustainable model that not only promises but delivers measurable results. TagMix's transformative approach is paving the way for festivals to maximise reach, engage passionately with audiences, and sell tickets at unprecedented rates, all without traditional ad spend.
TagMix is now opening its doors to a select number of festivals for the upcoming season. To be one of the 40 partners to capitalize on this ground-breaking marketing amplifier, contact Steve Jenner at steve@tagmix.me.