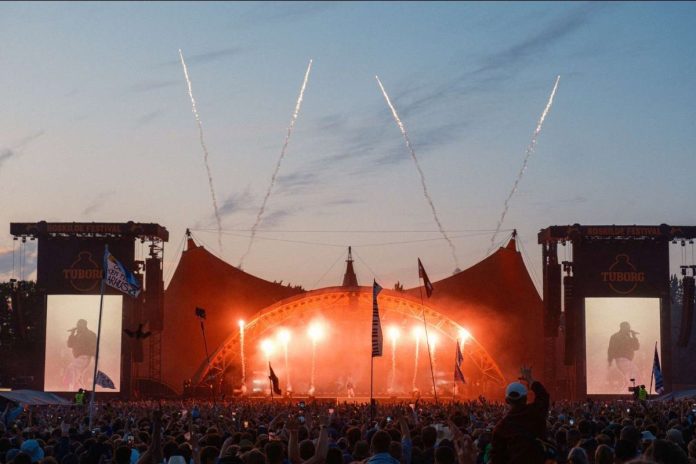 Denmark's Roskilde Festival is one of the longest-standing festivals in the game. Today, the non-profit festival—which donates all proceeds to humanitarian and cultural activities that benefit youth—announces its first batch of names to play next year's festival.
Columbian/American singer-songwriter Kali Uchis and UK veteran PJ Harvey will be among the headliners at next year's Roskilde Festival, following a 2023 lineup that included Lil Nas X, Burna Boy, Kendrick Lamar and many others.
The inaugural announcement for Roskilde Festival 2024 spans across multiple styles, genres and continents, also featuring Argentinian rapper Trueno, American hardcore punk collective The Armed, and Japan's Violent Magic Orchestra.
"We have a long-running history of being a progressive festival with an international perspective, and we consistently push ourselves to further that purpose. We aim to inspire every single one of our 130,000 festival participants with a diverse lineup characterized by artistic curiosity and groundbreaking headliners presented in a unique festival setting," says Anders Wahrén, Roskilde Festival's Program Director.
Unfolding dreams for a better future
Roskilde Festival is the biggest music festival in Northern Europe and is located just 20 miles outside of Copenhagen, offering a multitude of camping solutions as well as an onsite train station. The festival will also present a vast lineup of interdisciplinary art and activism through talks, workshops and performances.
"Roskilde Festival is a very communal event where dreams and new ideas for a better tomorrow are being addressed, exchanged, cultivated and eventually tried out by our participants. And music and art play a big part in inspiring us to even think and sense those new ideas to begin with," says Anders Wahrén.