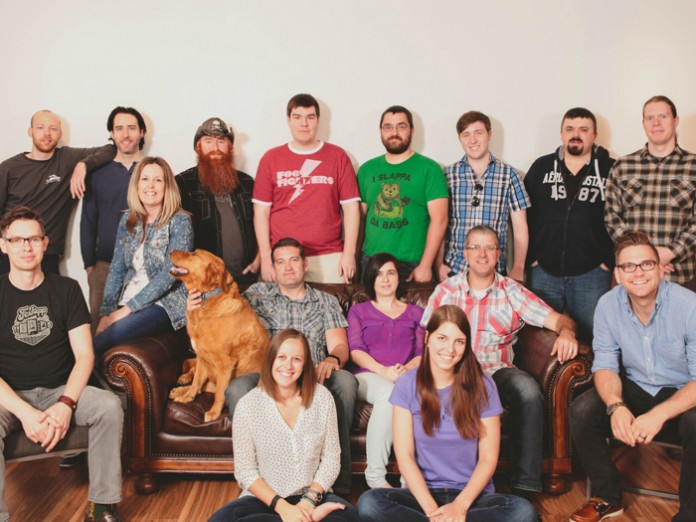 Since interviewing Marcato last year, the festival management software company has been busy – so much so that it necessitates the use of italics. In addition to launching an entire new line-up of products, it has expanded its client roster, revamped its website, refined its existing solutions, written for Insider Insights, and probably discovered a way to defy the second law of thermodynamics.
This time around, Insights spoke to Ethan Fenton – Marcato's Marketing Manager and self-professed Collector of Many Fine Cardigans – about all of the above, aside from their potential reversal of entropy.
Festival Insights: Marcato has recently announced a new line-up of products, specifically designed for what the company professes to be a new 'golden age of professionalised festivals'. Can you run us through this new line-up and the implications it'll have for festival management?
Ethan Fenton: Yeah, absolutely. We're very excited about the new line-up, which we officially dropped this month. When we originally started our festival management software company back in 2008, there was just the one product you could buy: Marcato Festival. The software was available to festivals who were looking for smarter and easier ways to accomplish unique tasks like artist management, show scheduling, hospitality arrangements, volunteer management, media management, and a whole other range of festival planning tasks. Even back then it was an extremely functional piece of software, but a lot has changed since those days. Every year we've introduced significant advances. However, never before now have we taken such a bold step forward.
Starting this month, Marcato is officially offering festivals (and other live events) three unique products to choose from. The first being Marcato Standard, a great foundational starter for any festival looking to move beyond traditional spreadsheet type planning. Then there is Marcato Plus, which adds a little more 'oomph' to the product offering, allowing festivals to move into things like paperless contracting or pass management and check-ins. Then, for all the heavy hitters out there, we have Marcato Enterprise, which is by far the most advanced festival management software ever released to the market. It adds in modules for complex credential management, asset request management, production staff management and scheduling, and catering management. Marcato Enterprise can also be integrated with a number of industry leading RFID access control providers to sync credentials directly to RFID enabled wristbands.
So, what does this all mean for festivals? It means, no matter what size or scope your festival fits into, there is a Marcato software solution that can make your life exponentially easier, even as you grow.
FI: When Marcato talks about this current or impending festival 'golden age', what kind of developments are we talking about?
EF: Well, first off, I have to say I don't think the golden age is impending any more – we're in it now. Never before have we seen such growth in the industry. There are new festivals popping up every month, in almost every corner of the globe. And we're not seeing these festivals just making it by either – an incredible majority of them are succeeding. Brand new festivals are landing major acts, bringing in thousands of attendees, and are shaping buying habits, trends, and popular culture around themselves.
These new players are smart, well equipped, and show no signs of slowing down. Stories of independent festivals growing up to become household names are not fantasies anymore. Neither are the stories of major corporations buying up great indie festivals at a very respectable price tag.
Of course, this new growth and natural evolution of the industry doesn't come without it's disadvantages. The rules of the game have officially changed and now, more than ever before, there is an ever-present threat of losing yourself in the hustle and bustle.
Festival professionalisation, as we call it, has been far reaching, influencing almost everything inside the space, including staffing choices, security, competition, revenue sources, genre preferences, and much more.
However, more than any of these factors, we believe the true sign of professionalisation is a three-folded standard of accountability: sponsor accountability + ticket-buyer accountability + stakeholder accountability = festival professionalisation.
You simply won't be involved in the golden age of festivals without experiencing this three-headed monster. The days of Woodstock are gone. Sponsors are no longer just investing their money willy-nilly. As well, ticket-buyers aren't just coming out for the heck of it, and stakeholders sure as hell aren't getting involved without a well calculated prediction of profits.
Inevitably, it seems, you can't have the growth without the accountability. But, if you do it right…man, it is worth it.
FI: In addition to these new products you've also refined and improved many of your existing solutions. What do these augmentations include?
EF: Well, our biggest influencers are our clients and we're always looking for new ways to make their lives smoother and more efficient in the day-to-day. We're constantly learning and constantly sharing what we've learned with the goal of building software that improves the experience of organising a live event. Along with improving the legacy tools already within the software, we delivered modules in this new line-up that have increased the software's functionality and were things our clients requested we incorporate into our offering. Things like catering management, or advanced volunteer-hour tracking, and offline credential issuance – all of these things started off as ideas our clients brought forward. Then we responded by saying, 'That's a great idea, and it would be useful for everyone!' Obviously, we can't incorporate every suggestion we receive, but we do our best to accommodate everyone.
FI: The new functionality and management workflows now encompassed in Marcato products are – according to you guys and girls – unprecedented in software solutions. Please explain, for the sake of laymen such as myself.
EF: Well, in layman's terms, we're simply helping festivals do things that no single software platform has ever been able to help with before.
Credential management for example:
Let's say you are a festival of about 5,000 – 10,000 people in attendance. At that size you most likely issue around 1,000 comped, partially-comped, or back-of-house credentials for people like artists, sponsors, vendors, production staff, volunteers, and a few others during your event (those comped creds could be anything from wristbands to meal tickets, drink tickets, upgrades, backstage access, camping passes, parking, etc.). That is a lot of credentials to be managed. Using the same example, but with a mega festival this time, you're now attracting an audience of over 100,000 per day and you're likely issuing well over 50,000 unique credentials over maybe a three day period, which is insane!
Before Marcato your only hope would be to use a massively complicated spreadsheet to track all of your credentials, in either case study. During production, multiple copies of that spreadsheet would be distributed out to your staff and they would be charged with issuing all those credentials to people like your volunteers, temp staff, artists, artist entourage, vendors, media, and thousands of other people. By the end of the event you'd be hoping to God you didn't go over quota, because each credential was worth anywhere from $25 – $500 each. Due to the nature of that system, it's almost impossible to not over-issue passes and, therefore, miss out on thousands of dollars in revenue. Also, in terms of data and site security, multiple spreadsheets is just a very non-secure way to manage so much valuable information.
With Marcato this kind of advanced credentialing is not only manageable, it's refinable. Meaning we can often refine the credentialing process and save festivals incredible amounts of money and stress – and that's just with credentials. We try to offer this same functionality for every major aspect of a festival's planning or execution.
FI: And if you weren't busy enough, Marcato has also revamped its cosmetic side, with a sleek new UI for major sections of the app, a totally redone website, and a new branding launch. How are you finding the time for all this?
EF: The Marcato team is committed and passionate about what we're doing. We really do believe this is the golden age of festival management. So, we're pushing ourselves very hard to insure we're offering festivals the very best software and support out there, in order to help them succeed in these exciting times. Also, working with people that are so motivated to deliver amazing events and then seeing our software (and our team) help them accomplish that keeps us going.
FI: Marcato's roster of clients and partners was already very impressive, but all these developments must have resulted in more joining the ranks, right?
EF: Yeah, absolutely. It's been a lot of fun to welcome some many new teams into the Marcato family. Since advancing forward we've grown from about 100 festivals to now over 200 festivals and events worldwide, including new additions like Voodoo Experience, Tortuga Music Festival, BET Fest, IleSoniq, Hangout Festival, The BPM Festival, and many more.
FI: Has the team had much spare time to travel to many of the festivals Marcato is associated with this year? If so, how were they and what was Marcato's remit onsite?
EF: No matter how busy we get, we always love getting out to a few of our client's incredible events. In some cases, yes, we are actually involved in supporting the backend production of the event. However, no matter what function we're attending in, you can't help but soak up some of the incredible experience – it's just too awesome.
Some special mentions from this year would be:
● Amsterdam Dance Event: Our CRO, Laird Wilton attended this year and participated in panel that discussed what industry players envision for 'The Future of Festival Management'. It was a ton of fun. Amsterdam is an amazing city and ADE manages to encompass and captivate the entire city all at once.
● Iceland Airwaves: These guys are flat out one of the coolest festivals in the world (you can watch a show while chillin' in a hot spring…I mean, come on), so it's a highlight to attend. Not to mention, Grimur Atlason is one of Marcato's longest running advocates. Our CEO and Founder, Darren Gallop made the trek to visit this incredible festival for the first time this month.
We also made it out to Coachella this year, Voodoo Experience, The CMA Awards and Festival, as well as a few others along the way. It's always a blast.
FI: Anything else I've missed that you're inexplicably fitting into 24-hour days?
EF: Beyond serving our clients around the globe, our other passion is building up the local community we live in (Cape Breton, NS). Cape Breton is a small island, located just off the east coast of Canada. It's an incredible place and we wouldn't choose to be headquartered anywhere else.
During the year we do our best to get involved in community-building events. We even host a few of them ourselves, including an annual hackathon where we invite local programmers to participate in a coding competition that ultimately encourages people to dream, build, and innovate amazing technologies right within our local community.
FI: And finally: any closing comments?
EF: More than anything we're just really grateful to be a part of this incredible industry. Every day has been an adventure and we're definitely not going anywhere soon.