The great British Summer. Long days, the beauty of the great outdoors, festival fever. And totally unpredictable weather.
That can cause havoc for even the best-planned festival. As many events have discovered to their cost, heavy rainfall can mean the cancelling of one day, a whole event, or just add thousands of pounds of additional expense. If you're not covered by insurance, you're left high and dry.
However, it's not just the weather which can be costly for festival organisers. James Dodds at Doodson Broking Group explains: "A common mistake festival organisers can make is to assume that the provider of equipment they are hiring will insure it while it's on site.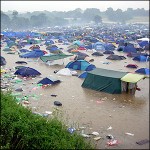 "Often in terms and conditions this is not the case and that it's down to the organiser to insure it. Things such as PA and staging are not only very expensive to replace, but a hire company may also claim for loss of earnings as a result of equipment being unusable."
Claims can also arise from accidents involving production staff, acts, ticketbuyers, even for money being moved around the site.
In an increasingly litigious society, promoters are more and more exposed to claims from almost every group involved with a festival.
Max Robertson at music industry specialist broker Robertson Taylor, says: "We once had a woman who went to one of the temporary toilets on a festival site on the last day of a festival. A group of lads decided it would be hilarious to up-end it, and she got covered in the contents.
"She sued the promoter, and won. Fortunately the promoter had insurance and we settled the claim."
Because of their very nature, insuring a festival can be a complicated business, with many forms to fill in for a variety of different types of cover, from accidental damage and bad weather insurance to employers' liability and even insuring against the state of the landowners' fields once the festival has packed-up and left.
Robertson says: "We're trying to simplify things and are currently building a package which covers all elements necessary for festivals."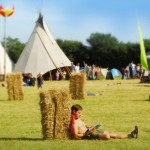 Brian Kirsch, MD of Event Insurance, which insures many smaller-capacity events, agrees: "There are three main areas which festivals need to consider. The first is ensuring the event goes ahead as planned – you need to consider the risks of cancellation, or disruption to the event, from the weather preventing it taking place, to terrorism preventing crews, artists or people travelling to the event.
"The second thing is insuring all the property and equipment which will be on site, from staging and PA to fencing, trackway and toilets.
"And the third thing is legal liabilities. There will be a lot of people in one place, so you need to have a thorough risk assessment to address the issues in advance and avoid any risk and be sure to have the right level of insurance.
"It's also important to remember that event temporary staff and contractors are technically employees, so employer liability insurance is required."
Due to the complexity of festivals, it's essential to talk to a specialist in event insurance.
"Every festival is different, and the larger they are, the more complex they can be, so getting the right cover is crucial," says Robertson.
"I've seen some policies which don't cover the periods of building or striking a site," adds Kirsch, "which is incredible when you think of how much happens at those times."
Insurance can seem like a large expense for small festivals, but, it's cheap compared with the cost of losing an event, for example due to bad weather.
So how do you save money when looking into insurance?
The key thing is to discuss with a specialist – they know what levels of insurance festivals need and what isn't needed, so will happily advise on making savings. After all, retaining a client is much better for business in the long run than making a bit extra here or there.
As Dodds says: "Getting the right policy is crucial. We will spend a few hours with a festival organiser to make sure we understand the event, who their contractors are, and to help them with risk management to improve the costs of cover."
The markets for cancellation insurance and equipment insurance are very competitive at the moment, which is a good thing for prices.
The good news is there are specialist brokers out there who can help. A few hours of time and budgeting correctly for the right levels of insurance will insure the event for the long term, no matter what happens.
What cover do festivals need?
Public and employers liability insurance
Equipment insurance (in case that stack of PA falls down)
Cancellation insurance – some smaller events feel this is less necessary, but weigh the cost of the insurance against how much you can afford to lose if you have to pull the event and refund all the ticket money, while still shouldering the costs…
Insurance for money being moved around on-site
Plant insurance. If your event is a greenfield site and the ground gets ruined, the landowner may decide to sue you in order to cover the costs of putting it right. This insurance should protect you against those claims.