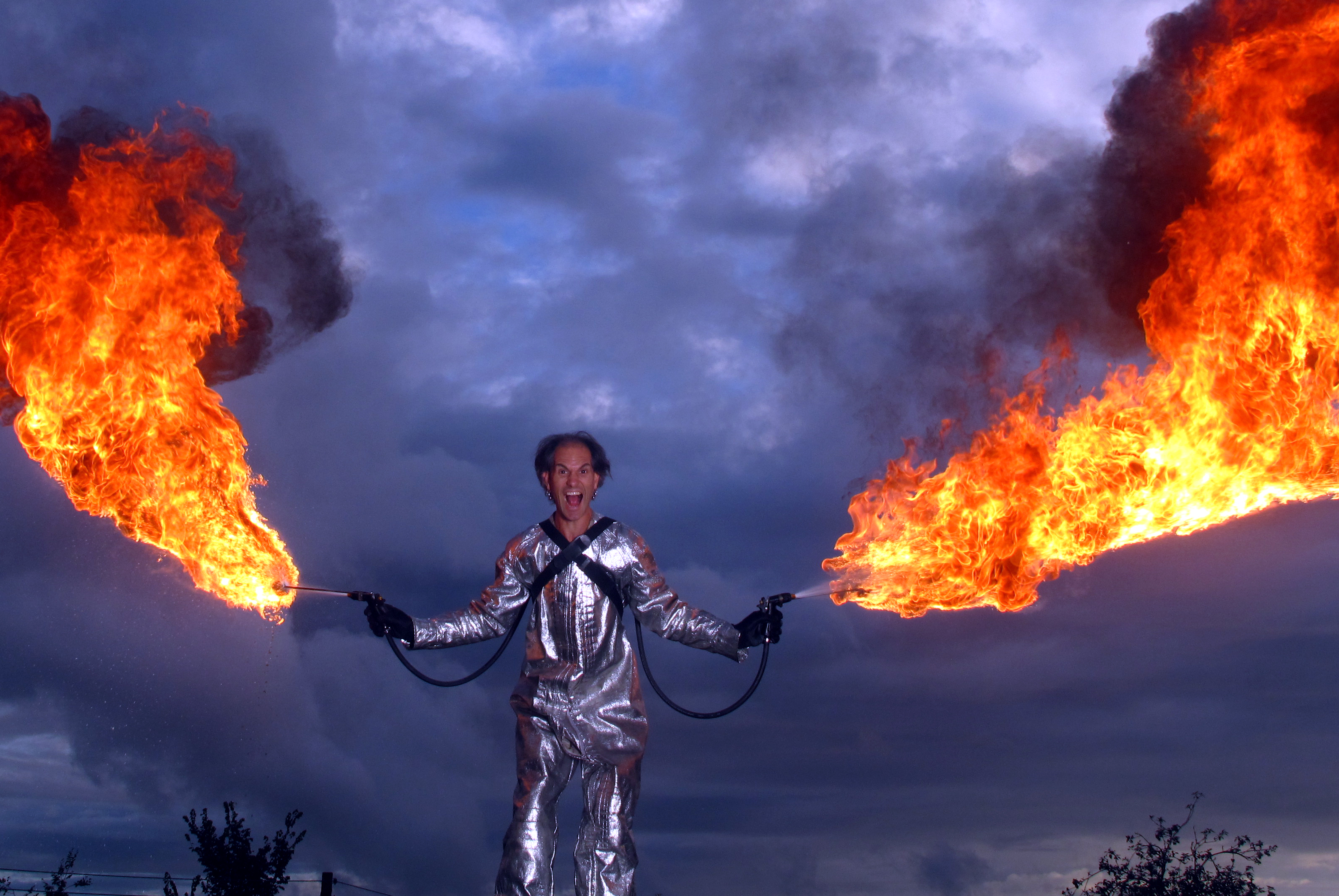 UK: It's difficult to summarise everything Joseph Peace does in one sentence; the only way to neatly put him in a box is if the box is on fire and he's wearing frilly golden shorts. The polymath pyromancer touts himself as a stuntman, photographer, engineer, sculptor, and DJ – crafts that he's exercised at numerous international festivals including Glastonbury and Burning Man. His unique combination of talents and love of festivals has also led him to become the Creative Design Manager for Boomtown Fair's Devil Kicks Dancehall stage.
Festival Insights discussed with Joseph his original impetus for becoming a stuntman, his diverse offerings, the worst injuries he's suffered, and what possessed him to invent a half car / half bike that he calls the Crike.
Festival Insights: You cite seeing two circus acts at Glastonbury 2002 as your inspiration for becoming a professional stunt performer. What did they involve, and what was it in particular that triggered the epiphany that led you here?
Joseph Peace: The first act was Skate Naked and was two guys in thongs doing a comedy acrobatic act. They were world busking champions once and I can see why – totally brilliant!
The second act was Lucky Diamond Rich, now the most tattooed man on Earth. He did some sword swallowing and then was juggling two swords and an apple on top of a very tall unicycle. He ate the apple as he juggled and attempted to throw the last piece under his leg and catch it in his mouth. He missed then regurgitated a chunk of apple to have another go, missed again and again and finally got it. The crowd went wild. Before his finale he said that many years ago he saw an act that made him want to become a performer and that if he managed to inspire someone that would basically make his Glastonbury. It felt like he was talking to me in particular and so I left my desk job with Manchester Council and became an entertainer.
FI: Your business card lists an impressive amount of services, from 'Fire stunt shows', 'Photography' and 'DJ' to 'Crikes!' (car x bike hybrids), to 'Sculpture' and 'Engineering Projects'. It would seem you're quite the Renaissance man. How many of these offerings have you deployed at festivals?
JP: I think all of them. I certainly do my fire stunt show at a lot of festivals. I do a performance photography act where I make a big song and dance out of taking photographs and then print them out straight away and attach them to my Crike as a mobile gallery. I am currently building an art car on a camper van chassis to take to Burning Man so that's sculpture and engineering too! I do old school wedding style DJ with 7″ records – all disco and Queen and the like. I've managed to blag a few slots doing that!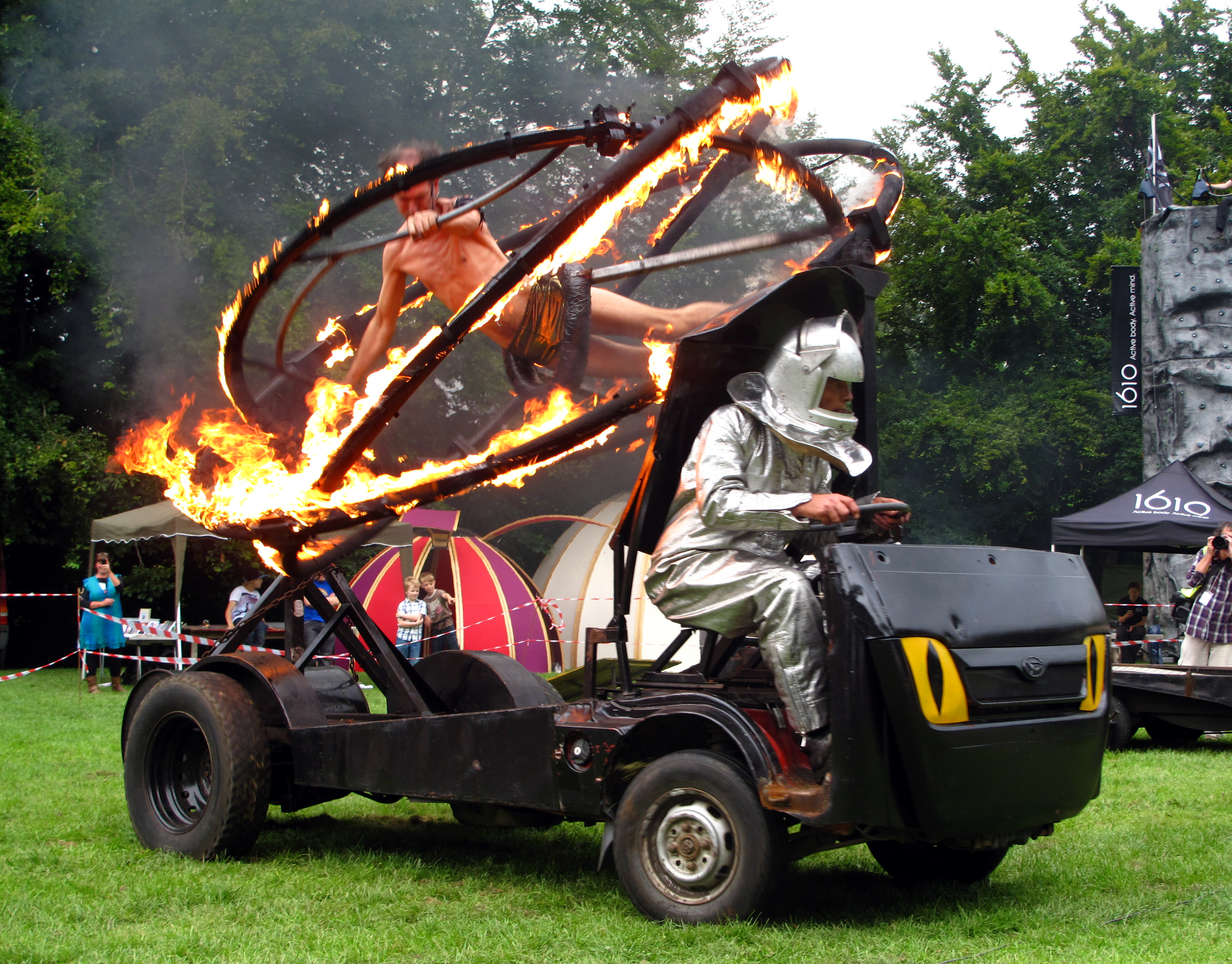 FI: Also emblazoned on the bottom of your business card is the motto 'If you ain't got scars, you ain't trying hard enough'. With that in mind, what are the worst injuries you've suffered as a result of your pyrotechnic shenanigans?
JP: I'm very proud of my scars! I have knocked myself unconscious once and I burnt my arm pretty badly but the worst one was getting a stunt wrong back in 2005 and ending up with my face immersed in fire for a couple of seconds. The pain was pretty intense and I was taken off to spend a couple of nights on a special burns unit before discharging myself to get back to the festival as I needed to pack my kit up. I was hoping to get a bit of a scar from that one but your face has great healing abilities and I got no scars from that. I don't actually do that particular stunt any more.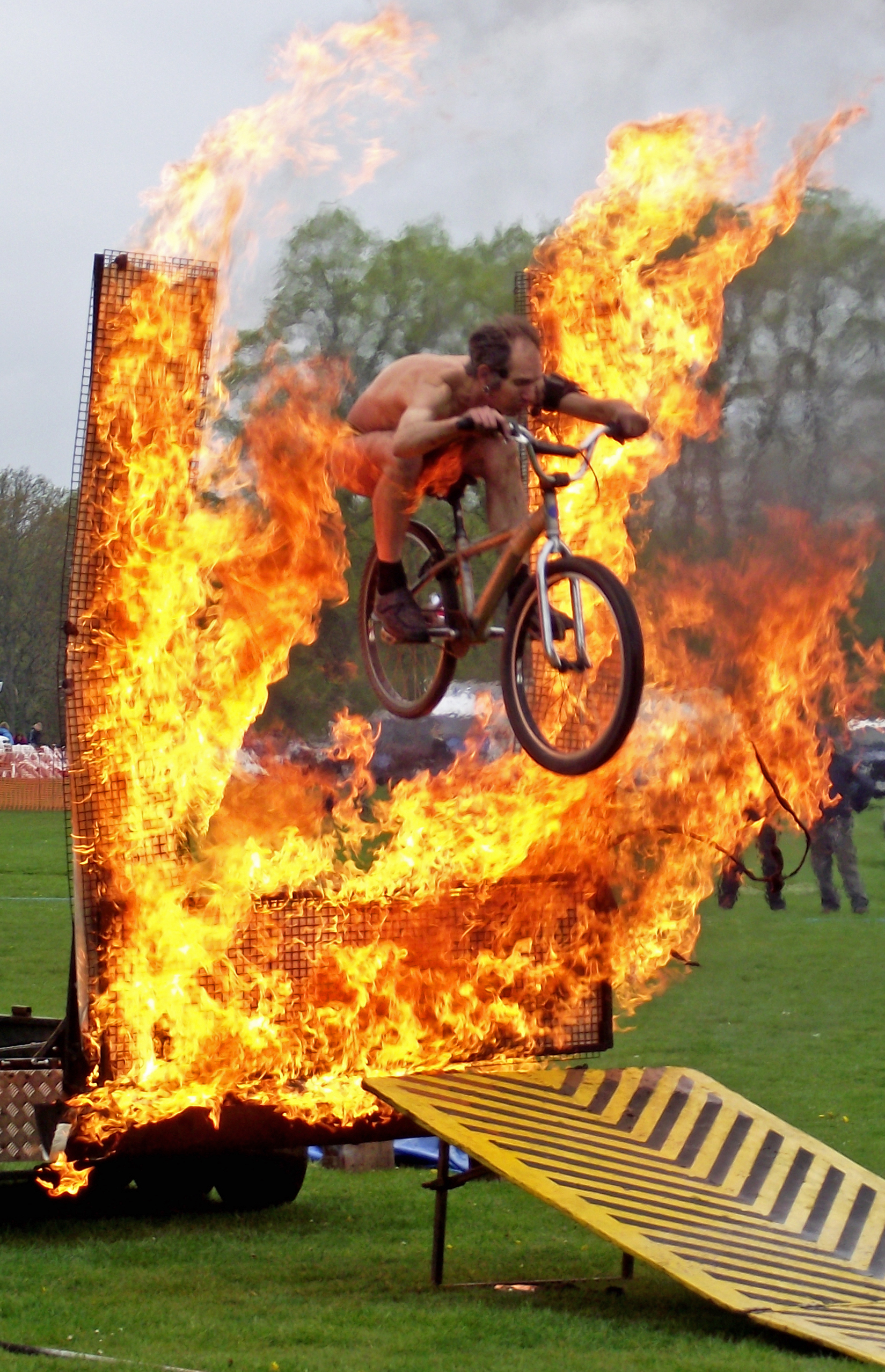 FI: How did you become Creative Design Manager for Boomtown Fair's Devil Kicks Dancehall stage? Anything big planned for this year?
JP: I was working as a chippy on the China Town area in 2013 and was watching what the CDM was doing with Devil Kicks. I thought I could help build on her design so called her around January 2014 to offer my services. Turns out she wasn't doing it and suggested I take it on. I went to see Lak, one of the Boomtown directors and he liked my ideas. The budget wasn't much and my brain told me to turn it down but my heart was already in love with the design and beat my brain in a quick game of rock paper scissors. My design is an Art Deco cinema, re-modelled as a 50's diner by being covered in sheet aluminium.
With the budget restraints I needed a source of aluminium. The universe responded when a friend (H of Get Hitched caravans who supply to festivals) of a friend (Jim of Posh Wash showers) bought a yard full of dead static caravans. I got a job for about a month breaking the statics and managed to harvest enough aluminium for the Devil Kicks project. To get the aluminium all uniform it ALL had to be polished with wet and dry sandpaper and water. No mean feat when it is 110′ wide and 35′ high! Big thanks to my team on that one. I'm going to be improving on the design this year.
FI: You've also been commissioned to build a 25′ tall 'art car' for Burning Man. Could you elucidate what the process has been like?
JP: I went to Burning Man for the first time last year. I set off to go there with the hope of manifesting a way of getting back to USA this winter to build an art car. I signed up to a contribution-based camp I found on the Internet. It turned out that the camp was quite dysfunctional as there were too many clueless virgins with not a lot to offer by way of skills. Luckily I was totally up for getting stuck in a fixing things and took the lead on repairing and putting up two massive army tents, servicing a load of bikes, fixing a fridge and various other bits and bobs.
The guy who owns the stuff the camp is built from was really appreciative and offered to ship one of my art cars out to Burning Man 2015. I suggested a better idea would be for me to go out there and build him an art car. I went out for six weeks just before Christmas and put in about 400 hours (yes, about 80 hours a week!) and I'm going back for three weeks in March / April to finish it off.
It's a 25′ high model of the illuminati pyramid as seen on the back of the $1 bill built onto the chassis of a 1970's camper van. It's got a really sexy six-litre V8 engine too! I'm building it at a place called The Generator in Reno. A founder of Gmail is funding the project and it is really well equipped. It would be great to see some places like that in the UK.
FI: The 'Crikes' are an interesting concept, being half car / half bicycle. I can imagine them going down very well at certain boutique festivals. What inspired their creation?
JP: I am a bit of a photographer and wanted to take my studio flash to festivals and be a mobile photographer. Using infernal combustion engine vehicles is a nightmare at festivals so I wanted something pedal powered. I thought 'I need a bike with a boot' and came up with the idea of welding the boot of a Peugeot 106 to the front of a mountain bike. Then I met someone at Glastonbury Festival 2008 who was involved with the Adelaide Fringe, who got me a commission to got to Adelaide and build a pair of Crikes for the 2009 opening parade. That was awesome.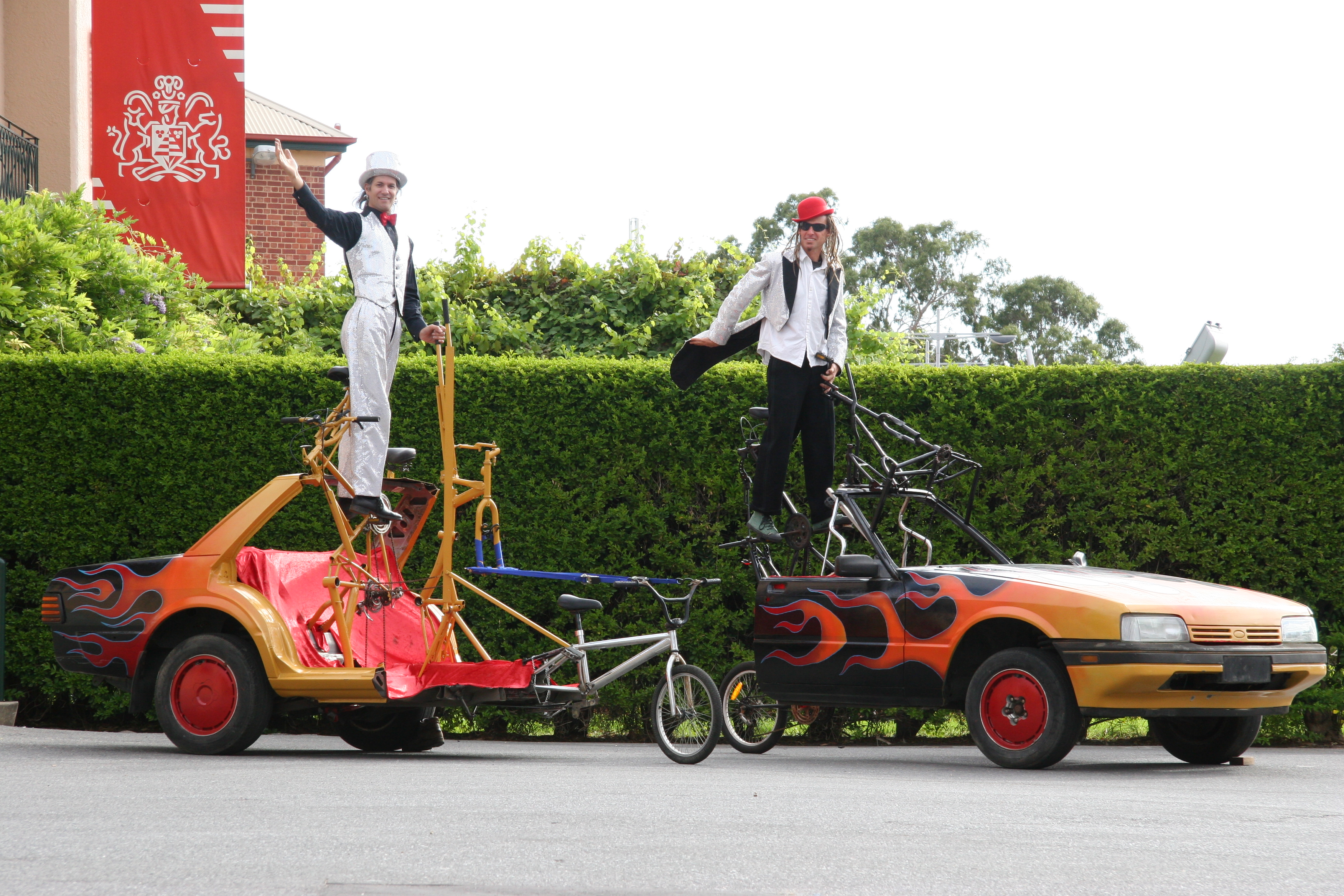 FI: Are there any 2015 festivals that you'll be working with?
JP: I'm CDM on Devil Kicks at Boomtown. I'm hoping to be doing my fire stunt show in Theatre and Circus where I had my epiphany in 2002. I'm also talking to the producers of Hell Stage in Shangri La about doing a new thing for them. It's a bit secret but it involves fire! I will be at Burning Man with my Illuminaticar, really looking forward to that. I think I will be on at Bearded Theory. I am getting fairly well booked up with non-festival gigs (they pay proper money) but I might add another festival. I would also like to do more of the design and build of festivals. My mum says I was conceived at a festival so I guess they are in my blood!
For more information on Joseph, check out his website.